Your average vehicle brand emblazons its logo on hats and T-shirts, so you can let the world know you own (or just appreciate) Harley-Davidson or Porsche.
For years, Ferrari followed this route, even lending its logo to cologne and headphones.
Now, Ferrari is upping the ante considerably with a new clothing collection inspired by its legendary cars. After unveiling the looks at a fashion show in Italy a couple weeks back, the lineup is available online now, with more product drops to occur throughout the year.
This goes beyond T-shirts and hats (though, to be fair, there are still T-shirts and hats). But the automaker partnered with creative director Rocco Iannone, the designer who formerly worked for Armani and Pal Zileri. He led the charge, producing a ready-to-wear collection that exemplifies the shapes, colors and materials emblematic of the cars themselves.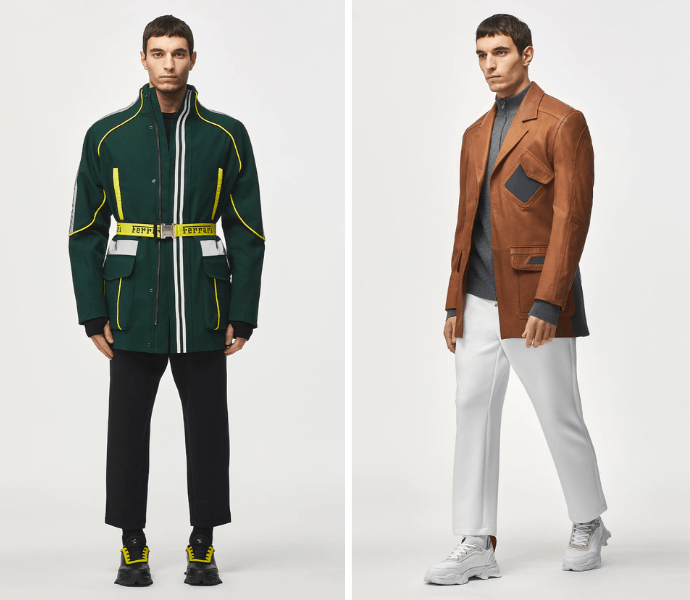 That means you can wear an iridescent burgundy-and-black mockneck parka. Or a leather field jacket with Merino wool inserts. Or a water-repellent peacoat with yellow reflective detailing.
If all that's a bit too high fashion for you, there are other options to be had. The gray zippered sweater, black sweatshirt with elbow patches and stretch fleece joggers are comfortable and minimal. There's a racing-inspired sneaker collaboration with Puma. And there's a simple T-shirt that skips a garish logo for subtle contrast piping above the pocket.
You may never own a Ferrari. Or maybe you have two in your garage. This new collection doesn't really care. It lets you connect with the brand in new ways, regardless of your vehicle.
It's the bumper sticker equivalent of saying "My other car is a Ferrari."

Even if your only car is a Prius.