If you want to get out of the city—any city—this summer, you could do a lot worse than the Hudson Valley.
Known for its vineyards, orchards, art and picturesque views, it's a fine place to rest your head for awhile.
Provided you have a place to stay and aren't just nestled up against an apple tree.
That's where the Hudson Whaler Hotel comes into play. This charming ode to Hudson's maritime past is located just a cheese wheel's throw from Hudson's many shops, restaurants and galleries.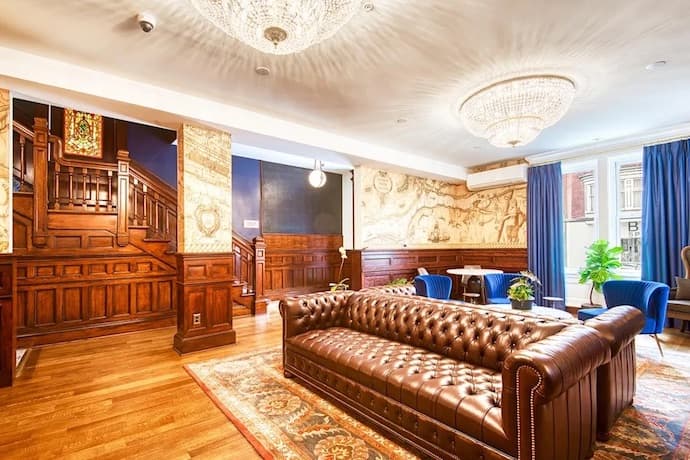 The revamped historic building resembles a backdrop from a Wes Anderson film, but inside is a very real 16-room hotel, complete with three floors of seafaring decor, custom woodwork and antiques, plus a lobby that conjures a ship captain's living room. The whole place is intended to evoke the interior of a ship—the hotel's hallways are painted dark blue, as if walking through a boat, and the rooms are nautical hues of blue and white.
The 16 suite-style rooms all have fireplaces, king or queen beds and large bathrooms, many with deep soaking tubs. In-room amenities include a refrigerator stocked with locally sourced beverages and snacks, like a handmade chocolate whale to continue the maritime theme.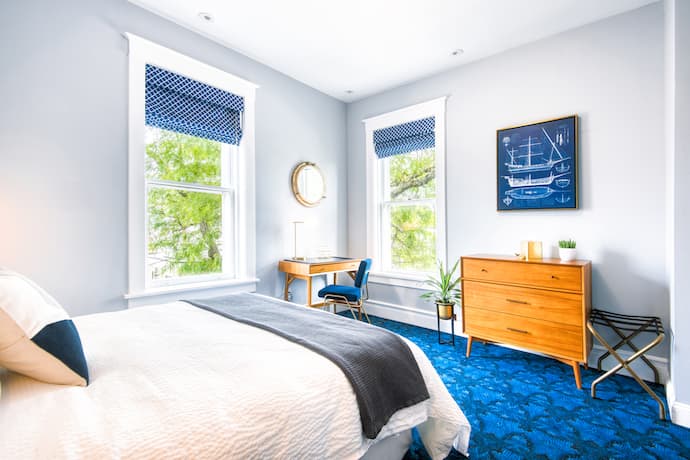 The downtown Hudson location is adjacent to good restaurants and shops, but it's also well situated for outdoor excursions in any season, from hiking and skiing to water activities and apple picking.
Once you're back on the property, the courtyard is a fine place to unwind with a drink after a probably pretty relaxing day of eating and wine tasting.
You can never be too unwound.