In this workout-from-home era, people across the globe have gravitated toward high-end bikes and smart gyms.
Everyone's spare room is now a mess of dumbbells, yoga mats and rowers.
We contend that that's a good thing. Mostly.
But as we reach new technological heights of personal fitness, sometimes it's helpful to take a step back, relax and go analog for awhile. Ideally with a good drink in hand.
Still, you wouldn't have expected the newest stationary pedaling device to come from a Scottish gin brand. But here we are.
The Hendrick's High Wheel is a delightful alternative to the high-intensity workout equipment dominating home gyms today. It's modeled after the old-timey penny farthing which, somehow, was the predominant bicycle of the 1870s.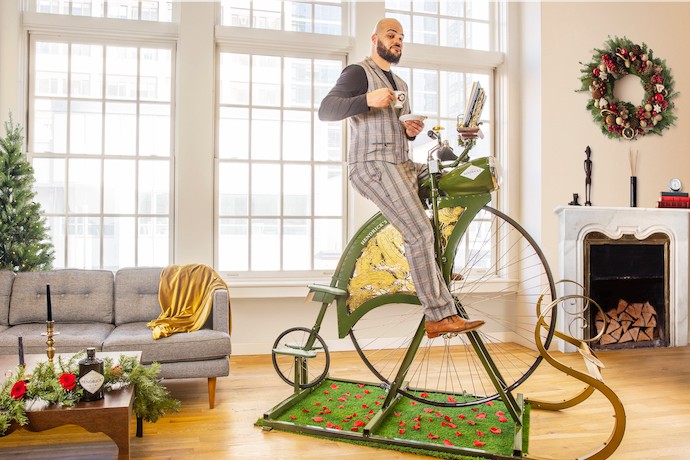 "In our view, modern exercise devices are demanding and intrusive, seeking to know your heart rate and V02 Max, and then sharing your fitness level with others," says Vance Henderson, Hendrick's U.S. ambassador. "We take a more laissez-faire approach. Choose a good novel, stimulate your mind, and pedal away at your own leisure."
Such a lackadaisical approach is refreshing.
In lieu of a screen, the Hendrick's High Wheel comes with a manual inviting you to exercise your imagination as well as your body. It features photographs of a whimsical journey through the Scottish countryside. Because you don't need an aggressive instructor shouting directions and encouragement when there's no leaderboard or finish line.
You'll mount this bike via a side peg, and begin pedaling the 48-inch wheel, which sits atop a patch of fake grass. If you get thirsty, the bike is fitted with a one-liter sized water bottle (gin bottle?) holder, so that a libation is never too far out of reach. Other advanced features include a light bulb that illuminates while you pedal, proving that you are, in fact, doing something, plus a fully adjustable seat and a cheerful bell.
Perhaps to signal for a refill.