October is a busy month.
Sure, you've got your classics like Halloween and the World Series.
But, apparently, it's also National Pizza Month and National Pasta Month.
The fake holidays are piling up, but those are two we can get behind. Especially when a culinary wizard puts them together into one hybrid dish.
The Cacio e Pepe Pizza comes from North Italia. It's exactly what it sounds like, assuming you think it sounds like the creamy, cheesy, peppery pasta dish in pizza form. It's available now at North Italia locations, so if you're near one of those (there are many), you're in luck. For everyone else, you can try making it at home.
"We created the Cacio e Pepe pizza as a way to put a modern twist on the classic Cacio e Pepe pasta dish," says Carlos Calderon, Brand Chef at North Italia. "It's basically all the cheesy goodness on a simple pizza packed with rich flavors."
He's not wrong. And with the weather getting colder, now's the time to engage in cavalier comfort food decisions involving pecorino crema.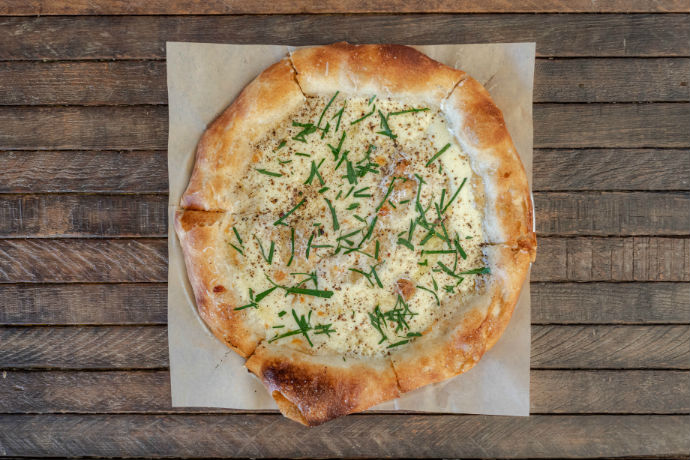 Cacio e Pepe Pizza Recipe
Ingredients
10 oz pizza dough
Flour to coat
1 tsp garlic oil
1 pinch kosher salt
2 oz panna (heavy cream)
3 oz mozzarella cheese
2 oz pecorino crema
1/2 tsp garlic oil
1 tsp black peppercorns, toasted and crushed
1 tbsp parsley, chiffonade
1 tbsp pecorino romano, grated
Instructions
1. Roll the pizza dough in flour and gently pull dough to form a 12" round.
2. Dust the pizza peel with a very thin layer of semolina before building the pizza.
3. Brush the crust with garlic oil and season with salt.
4. Spread the panna on the dough, ensuring to leave the crust area bare.
5. Add the mozzarella cheese evenly.
6. Depending on the dough used, bake the pizza at 550 degrees for 7-10 minutes.
7. After the pizza is fully cooked, drizzle pecorino crema evenly over the pizza.
8. Brush the crust with garlic oil.
9. Garnish with black peppercorns, chiffonade parsley and top with the pecorino romano.