On the surface, it may not seem like boots and whiskey have a lot in common.
But, just off the top of our heads, we can think of three things:
1. They both get better with age.
2. Some of the best examples are made right here in America.
3. Those same best examples are often coveted by collectors and hard to find.
The Wolverine 1000 Mile x Old Rip Van Winkle Boot is no exception. The partnership between a couple of American icons—the boot makers at Wolverine and the bourbon pros at Pappy Van Winkle—resulted in the handsome boots you see here.
The just launched, limited-edition collaboration sold out within hours, but you still have a chance to step into a pair. Now through October 9, Wolverine is auctioning off three pairs of the boots along with a copy of "But Always Fine Bourbon" signed by fourth generation bourbon maker Preston Van Winkle.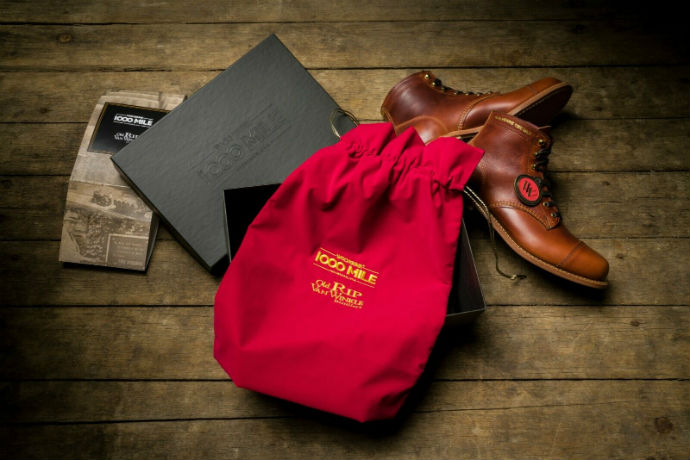 The cap-toe boots are made from Horween leather that perfectly matches the color of a bottle of whiskey. And the boot heels are constructed with a layer of the same American oak that's used to age Old Rip Van Winkle, so you're literally walking on the barrels that hold your favorite liquid.
Each pair also includes Vibram outsoles, sturdy welt construction and waxed cotton laces, plus a hand-numbered tag on the tongue. It all comes packaged in a handsome red bag similar to the bag that coddles Van Winkle bourbon.
One hundred percent of proceeds from the auction will be contributed to the mikeroweWORKS scholarship foundation, which supports the next generation of American workers. That's nice. And you'll get to show off your rare boots to jealous friends who didn't act quickly enough.
A glass of bourbon should help soften the blow.