Hurried weekday lunches usually go one of two ways.
1) You finally get a break from meetings and spreadsheets and 30-minute calls that could've been handled with one email, and quietly eat a sad desk lunch consisting of sad leftovers that you heated up in your office's sad, soup-stained microwave.
2) You escape the office only to pick up some unhealthy fast food that leaves you falling asleep on your keyboard.
One company wants to change that via a self-heating lunchbox. Because, hey, if you want to change the world, start by changing lunchtime.
It's called Heatbox, and after almost two years of prototypes, it's finally ready for its debut. You can pre-order yours now for summer shipping.
Unlike a microwave which dries out food, Heatbox uses steam to warm the contents within. This maintains nutrients and flavor without sacrificing moisture.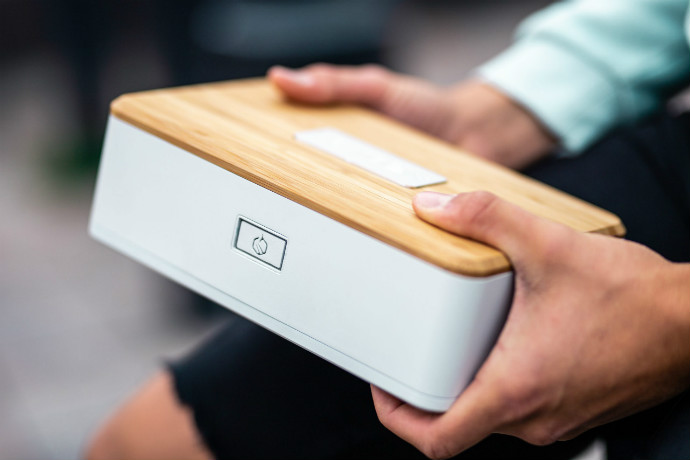 To use it, you simply add 20 ml of water to a compartment within the box. Do that before you leave in the morning or anytime throughout the day. Then when you get hungry, just remove the inner lid and turn the thing on. There are three steaming programs—low, medium and high, depending on the type and amount of food you've got inside. The battery-powered heating element produces the steam, and after eight to 12 minutes, your lunch will be warm and ready to eat.
Naturally, there's an app. Said app lets you turn Heatbox on so it can get to work. Do it from a meeting, and no one will be the wiser. But they will be jealous when you pull out a hot, ready-to-eat meal and they're stuck eating a cold sandwich that got smashed in the office fridge.
Just wait until they see your wine pairing.