Mark Twain purportedly said, "Golf is a good walk spoiled."
No disrespect to this great American treasure.
But maybe he was just walking on the wrong course.
You, however, can take a stroll (and even play some golf) at the brand new Payne's Valley, the first public-access Tiger Woods-designed golf course. It officially opens September 24, and they're accepting tee times now.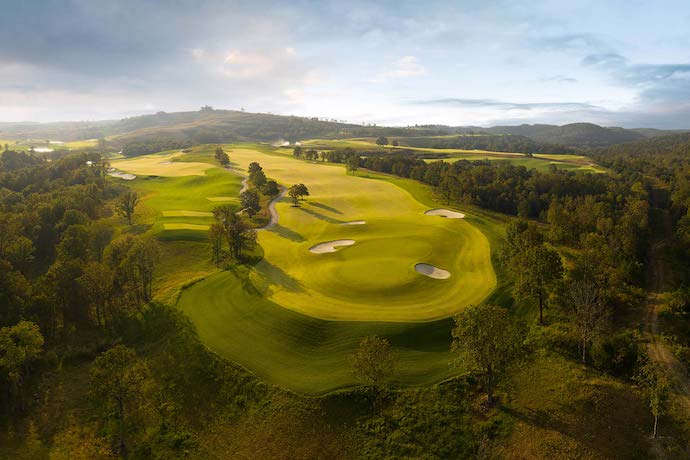 The course is located at Big Cedar Lodge, a luxury lakeside resort tucked into Missouri's Ozark Mountains, and is named for the late golf legend and Ozarks native, Payne Stewart. It features wide fairways, varied terrain, well-placed bunkers, limestone cliffs and waterfalls. And as you finish your round, you'll traverse through a natural cave system to return to the clubhouse. So, even if your scorecard is littered with triple-bogeys, you'll still have plenty of nature to enjoy.
Unlike most courses, the 19th hole isn't just a bar you visit after your round—it's an actual par-three hole. Consider it bonus play, perfect for settling ties or placing wagers. Or losing one last ball.
Of course, there's also plenty to eat and drink at the lodge, so you won't have to choke down a hot dog after you've just walked and swung and cursed for four hours. You can visit the Osage Restaurant for a 22-ounce bone-in ribeye and a couple glasses of whiskey.
The exact fuel you'll need to go play another 18.