Private islands. Overwater villas. Infinity pools. Fresh lobster. Sunset drinks. Scuba diving. Relaxing massages. Wind surfing. Beachside dinners. Secluded hot tubs.
Sorry, we were just naming things we like and got a little carried away...
But coincidentally, all of the above can be found at the just-opened Emerald Maldives Resort & Spa, which is your cue to cash in some vacation days and treat yourself to a little R&R.
The 120-villa all-inclusive resort is located on the Raa Atoll, which is known for having some of the most diverse marine life in the world, and—per the picture above—kind of resembles a tomahawk chop. It also houses one of the largest lagoons in the Maldives. So, there will be water in all directions.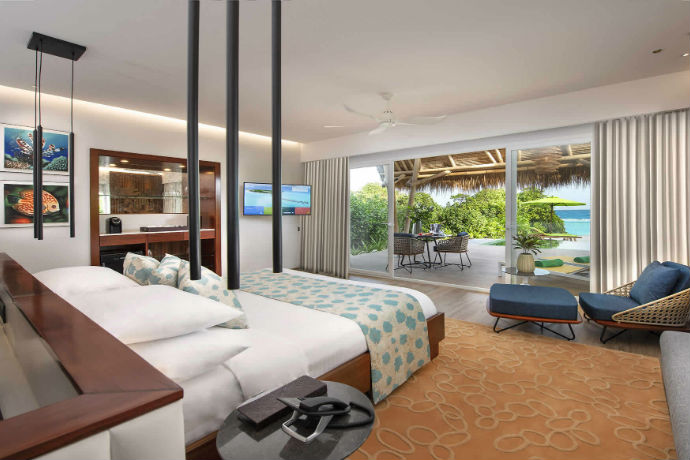 Your accommodations range from nice to extra-nice, with half located on the beach and half jutting out over the water. The spacious rooms are tropical and modern, with king beds, white marble bathrooms and outdoor spaces where you can listen to the waves or make some of your own in your private pool.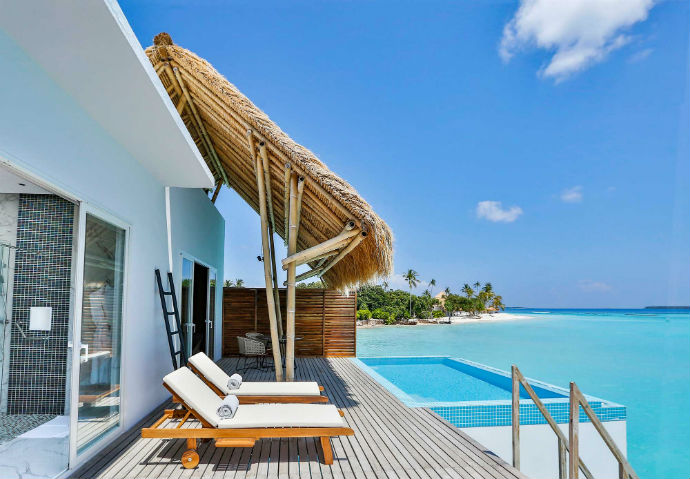 Since the resort is all-inclusive, you'll have access to each of the four restaurants and can even raid your mini bar without the usual checkout-time sticker shock. Those restaurants include Amazonico, the Maldives' first South American Restaurant. It's serving dishes like ceviche alongside meats and fish cooked over a huge open fire grill. Head to Le Asiatique for live cooking shows over teppanyaki grills, or score some fresh local lobster at the Beach Club Grill Restaurant.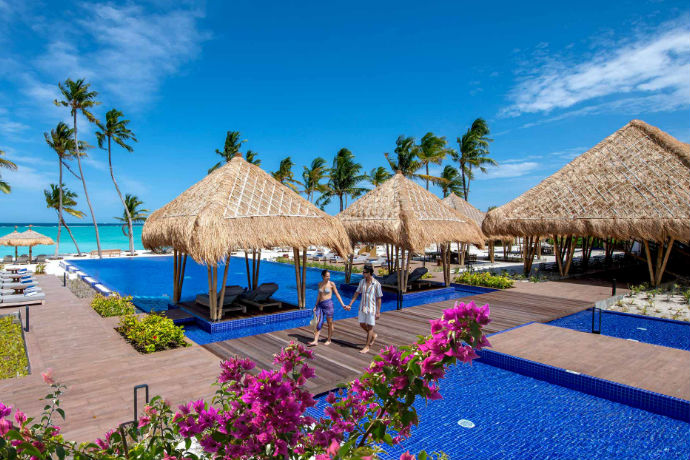 The Emerald Spa is where you'll go for Balinese and Thai treatments in 10 air-conditioned rooms, plus a Turkish bath, sauna and jacuzzi. If you really want to earn your massage, you can partake in sunrise yoga, visit the gym or play a little tennis.
But simply hopping from bed to breakfast to pool to spa is also a perfectly acceptable progression.