You look stressed.
Don't worry, we didn't access your webcam.
It's just unusual to not be stressed here in 2019, especially as we're right in the thick of the holidays.
So, in the event that you'd like to get away for awhile—say, somewhere that your boss and well-meaning family and bitter political discourse cannot find you—well, we know a place.
Welcome to Dive, an 11-room oasis in Palm Springs that can be your new homebase for cocktails by the pool and other tried-and-true forms of tranquility. It's open now and ready to take your reservation.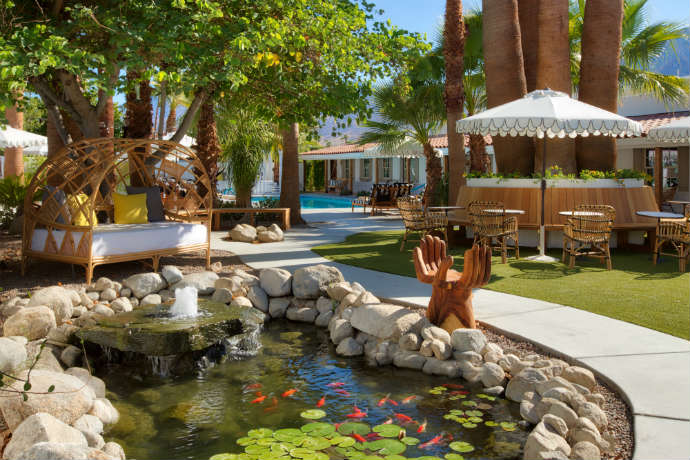 The hotel has a 1960s French Riviera vibe, so if you've ever wanted to visit St Tropez, but 60 years ago, now you sort of can.
The grounds are dotted with palm trees, canopy daybeds and a pool which should feature heavily in your time here. There's also an orchard with fruit trees, hanging chairs and twin waterfalls, plus a koi pond. It won't be difficult to relax.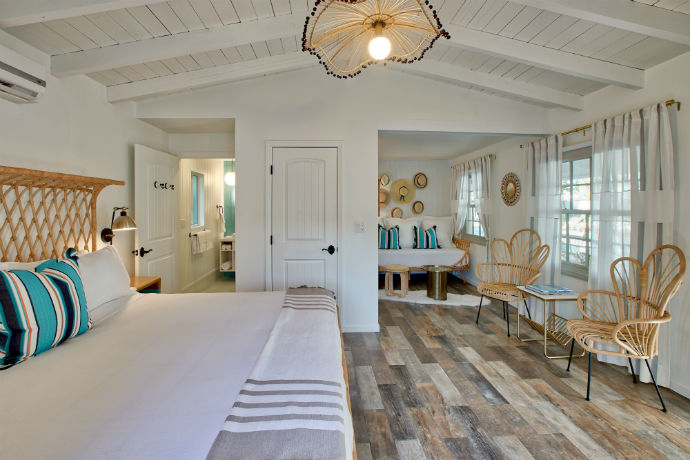 Those 11 rooms are bright and spacious, with comfortable beds, rattan furnishings and bathrooms sporting rainfall showers. Among those rooms are two suites, including the Orchard Suite, with a large outdoor patio, private hot tub, indoor movie theatre and private three-hole putting green so you can work on your short game in peace.
At night, guests can take an alfresco dip in the 24 hour hot tub or congregate at the fire pit before heading to the Peacock Lounge for a drink and a game of backgammon.
If you want a nightcap to take back to your room, swing by Babar. That's the name of the elephant-shaped bar cart, a help-yourself situation that's stocked with a selection of liquors and Champagnes.
We suspect you and Babar are going to be very good friends.