Your summer feels like it's been missing something.
You've had plenty of icy drinks, balmy nights and grilled meats.
Lots of fun and near-nudity by bodies of water.
Hmmm...
It must be your utter lack of an igloo.
You can remedy that immediately by acquiring the Gardenigloo 360, a clear, rather cool-looking personal dome you can adjust to fit any season. The easy-to-assemble, rust-and-weather-proof, geodesic gazebo is constructed from 100 percent recyclable materials and made for putting in your backyard or on your patio. It seems surprisingly normal.
This thing is nearly 12 feet in diameter, more than seven feet tall and clear on all sides, so you can stretch out and enjoy nature while simultaneously being shielded from sun, rain and winged bloodsuckers.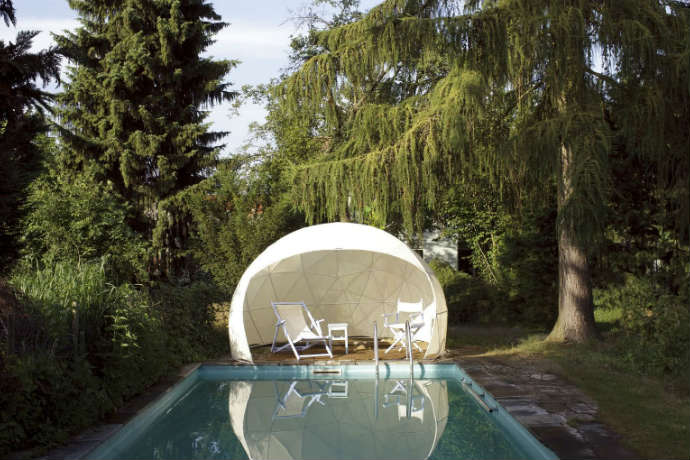 Here's how you'll use it:
In summer: Place it someplace green and picturesque and kick back. Do some reading with the windows unzipped for a breeze. Sip some lemonade. Or something stronger. Host a few dates surrounded by and simultaneously protected from the elements. Refer often to the outside world you enjoy looking at but no longer feel the need to enter.
During a heat wave: You'll throw on the canopy cover to catch some shade, as the air inside the dome is a little warmer than outside. Also, to keep your air guitar sessions private.
In winter: This thing is built to withstand snow and wind and other bad weather. And even comes with its own snow cover to protect it. It's almost as if it's some kind of igloo or something.
In the thick of a mosquito apocalypse: There's a net sold separately that fits the outside of your igloo like a glove. The little jerks can't enter no matter how hard they try.
Wolverines will have an easier time.