There are many ways you could honor Hunter S. Thompson.
And one of them is actually legal.
We're talking about staying at Thompson's writing cabin, located on the grounds of Owl Farm, the Snowmass, Colorado compound he lived at until his untimely expiration. The private property (owned by his wife, Anita) is taking applications for writing retreats now, with a three-night minimum.
Let's be clear: this is not like staying at the Four Seasons. It's rustic and remote. But if you love all things Gonzo, you basically have to do this at some point in your life.
Inside the two-bedroom cabin, you'll find one of the writer's old desks, plus black out shades to fight the savageness of a brilliant sun intruding upon your hangover. But if you do peer out the windows, you'll see a fairly majestic spread of red cliffs and a peacock pen. Naturally.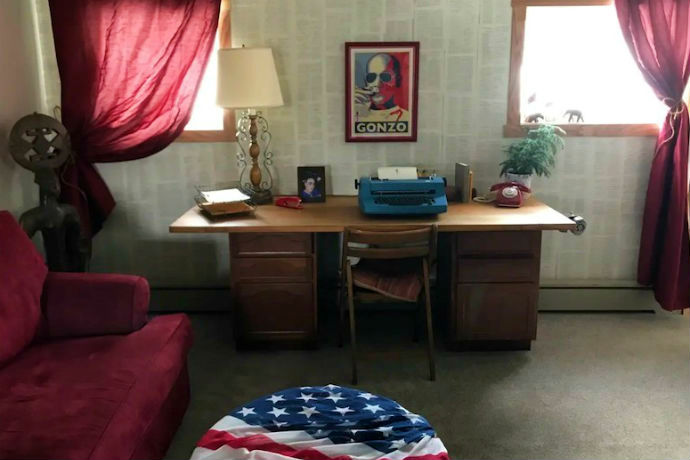 There's also a king bed for you and a twin bed for someone else, plus a kitchen, bar, washer and dryer, living room, giant TV and other comforts for friends, associates and questionable characters.
You'll also find a lot of Hunter paraphernalia around. The lawful kind, like writing tools, Gonzo posters, reference books and his preferred model of typewriter, which you can look at for inspiration while banging away on your laptop.
The whole place is just a short walk from Thompson's memorial and the red stone labyrinth where his ashes were shot out of a cannon.
Yep, the bar for weirdness has been set pretty high around here.