Africa has good wildlife safaris. There's no denying it.
But you don't have to cross an ocean to spot some animals.
You can do it right in America's backyard.
The Hidden Yellowstone Wildlife Safari is your chance to explore Yellowstone and the Grand Tetons, glean knowledge from naturalists who really know their stuff and—if you're lucky—rub elbows with some bears. Departures for the week-long trip begin August 27 and run through September.
You might recall that Theodore Roosevelt was a big fan of Yellowstone. He visited in 1903 right in the middle of his presidency and wrote odes to its majesty. So, if it was good enough for a standing president more than 100 years ago... that really has no bearing on your enjoyment today. But, hey, it's a nice park, and this is a great way to experience it.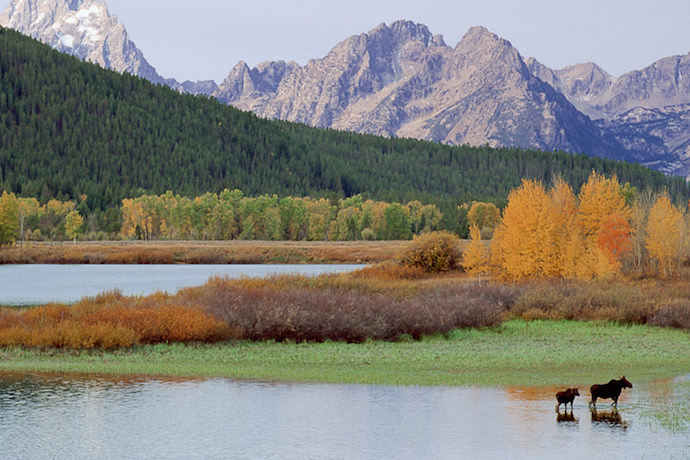 The small group will go searching for wolves, grizzlies, bison and bighorn sheep in lesser-known, less-crowded areas of the parks, guided by naturalists who know where to look. And, because the group maxes out at 14 guests, you won't be crammed into tour buses, fighting for real estate to catch a glimpse of a bear cub, or annoyed by any more than 13 photo-takers at one time. Instead, you'll be traveling in Mercedes safari trucks with pop-top roof hatches and large side windows for 360-degree views of the landscape.

Part of the expedition will take place on the Snake River, where you'll float along enjoying some sun beneath the Grand Tetons, as you scout for elk, moose and otters along the bank. Just be sure to keep your head on a swivel for bald eagles overhead.
And, when it's time to rest your head, you won't exactly be roughing it. Instead, you'll be staying at nicer-than-expected spots like the Jackson Lake Lodge, which sports panoramic views over Jackson Lake.
Truth in advertising.