As you are no doubt aware, glamorous + camping = "glamping."
Yes, it's a very unfortunate word.
But that doesn't diminish the fact that you can now have a fully-furnished luxury tent delivered and setup in your backyard (or anywhere else in America) for a fraction of the price of building a cabin or buying an Airstream. Which means you're just one step away from opening your own urban safari. Or occasionally sleeping in a tent.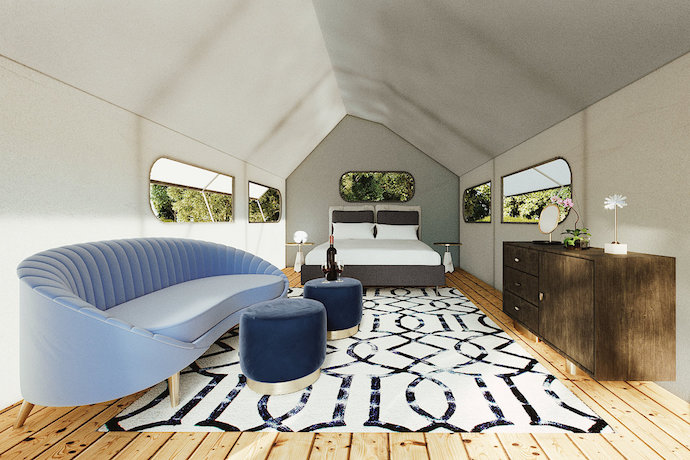 The company behind this endeavor is called Glampique. And for $20,000, they will show up at a location of your choosing, assemble your tent, stock it with furniture and then slowly fade into the woods or otherwise go about their merry way.
The finished tent stands 12-feet by 18-feet and has vaulted ceilings for plenty of headroom. Inside you'll have a wood floor, a king-size bed, bedside tables, a dresser, couch, and ottomans, plus five large windows to keep things bright and airy. Step outside, and you've got a covered wooden porch, a couple chairs and a two-person swing, perfect for gazing up at the stars or enjoying a well-earned drink after a long day of relaxing.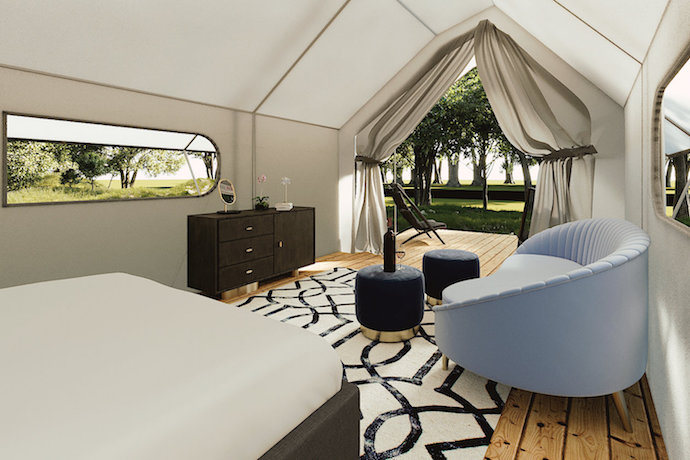 Unlike your typical cabin or luxury trailer, there's not a kitchen or bathroom. So you'll have to deal with that. But if you'd like to commune with nature, this thing does the trick. You could also buy a few of them, put them on a plot of land and start your own campsite.
Or "glampsite."
(Sorry.)