The desert is a parched, desolate hellscape where life struggles to exist under a merciless sun.
Not to mention, white-glove dinner service and a decent cigar lounge can be rather difficult to find.
Unless you're staying here, of course.
Here is a little place called Sonop, a handsome colonial oasis on the southern edge of the Namibian desert that thoughtfully provides all the game drives, tent suites and hot tubs any luxurious trip to sub-Saharan Africa should entail. Reservations are now live with an opening date of July 1.
Upon arrival, you and your travel companion will find yourselves housed in one of 10 roomy, antique-appointed tents situated on top of boulders perched over a picturesque desert landscape. So, things are off to a good start.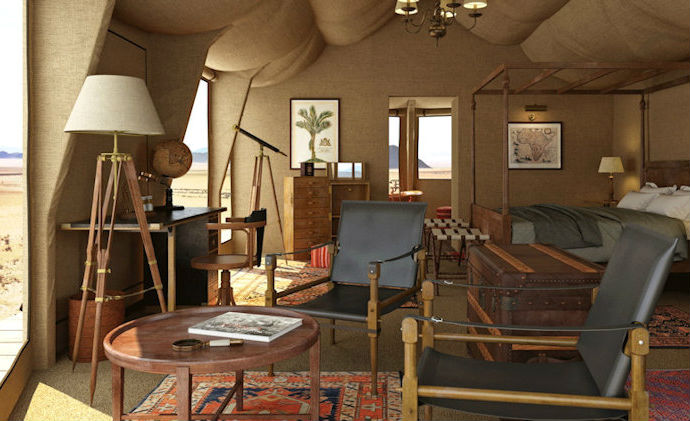 There are one- and two-bedroom versions of said tents, each resembling the kind of place that Lawrence of Arabia would head for some R&R. They come with roll-up windows, lavish king beds, copper tubs, globes and telescopes. But also Bluetooth connectivity and air-conditioning, because 1920s fantasies are only as good as their modern technologies and five-star comforts.
And when you're not searching out the stars in the vast night sky, practicing desert yoga or cocktailing by the pool, it's probably because you're attending an open-air movie or eating a five-course black tie, white-glove dinner before retiring to play billiards in the cigar lounge.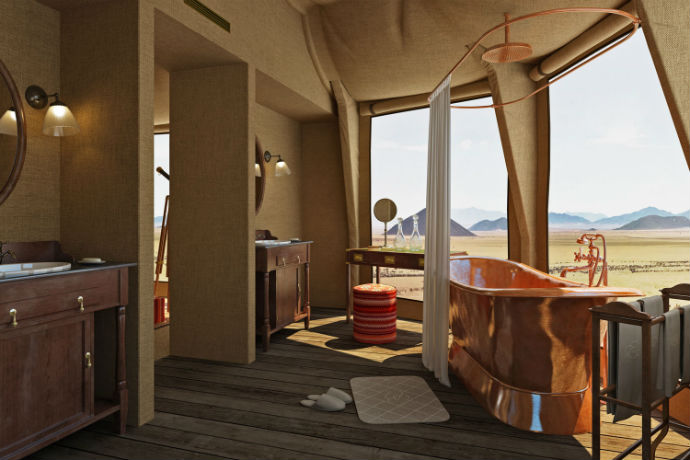 If you were hoping to see some nature on this trip to Africa, that can be arranged. To make it happen, you can visit the dunes of Sossusvlei to go oryx spotting in a 4x4 or take a hot air balloon to search out elusive leopards. There are also horse stables for riding lessons. And, of course, guided game tours are offered by car, on foot or by electric bike.
Even leopards are tired of electric scooters.