Clinking glasses.
Sabering bottles.
Sitting through the first 10 minutes of a Toastmasters seminar.
All that practice has been leading up to this.
This being your very own bespoke Champagne tour, wherein you'll eat and drink your way through some of France's most storied houses of sparkling wine, courtesy of Clos19. They're booking itineraries now through October, which is your cue to clear some room in your calendar between now and October.
Once you arrive in France, you'll engage in some real bucket list-type activities. Exploring Moët & Chandon cellars while tasting vintages in the same salon where Emperor Napoleon drank: check. Visiting Ruinart's UNESCO World Heritage cellars to sample the goods: of course. Strolling through Veuve Clicquot's vineyards: you know that's in the cards.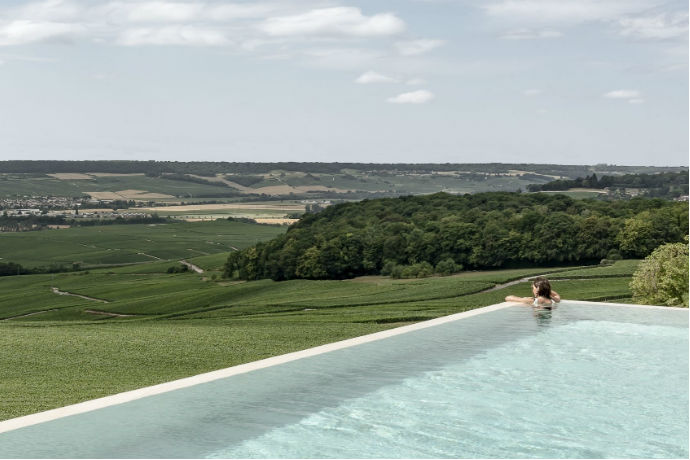 And when the time comes for dinner, you'll be feasting at restaurants that have been awarded stars by a French tire company—which seems strange until you realize that it's Michelin. And at night, you'll retire to the Royal Champagne Hotel & Spa. It's got the ridiculous pool views you see above, plus all the massages, yoga and wellness you can handle.
Oh, and here's something you didn't expect to read today: Should you want to see Champagne at top speed in a fighter jet, you can do that. Seriously. You can book an add-on to this trip that will have you scouting vines from the cockpit. Of a fighter jet.
That part seemed worth repeating.