A lot's been going on in Billy Reid's world lately.
The three-time CFDA award-winning designer, whose eponymous line celebrated its 20th anniversary last year, just entered a partnership with The Balvenie, the renowned Scottish whisky distillery, which will take the form of a series of in-store tastings and intimate concerts.
With the help of talented chef friends like Katie Button (of the esteemed Asheville eatery, Cúrate), he's begun to host a series of VIP dinner parties in his Florence, Alabama-based flagship store.
This August, he'll host the 11th annual edition of Shindig, also in Florence—a combination food-music-fashion fest where one might, over the course of the weekend, watch Jack White play baseball, catch a Kacey Musgraves concert or pig out on a James Beard Award-winning chef's sliders.
And, in defiance of the supposed decline of brick-and-mortar, Reid is opening five more boutiques over the next year and a half, in Nashville, Austin, Dallas, Fort Worth and Birmingham (the last of which will feature a dedicated restaurant).
"I've always loved to entertain," Reid tells me over the phone recently; his voice, both brittle and warm, is reminiscent of Wilco frontman Jeff Tweedy's. "I think people need a reason to get out and shop, and if they do, why don't we take that opportunity to, I don't know, make that a more 360[-degree] experience, and let 'em dive in with us."
Hospitality has been an outsized priority of Reid's since the beginning, long before the concept became conflated with meaningless buzzwords like "experiential retail." As a kid he lounged around his mother's Louisiana clothing shop ("during the days of Gloria Vanderbilt jeans"), which just so happened to be located in his grandmother's old house.
"Within the community, it became a place to hang out," Reid recalls. "And that's what we've tried to create with our stores."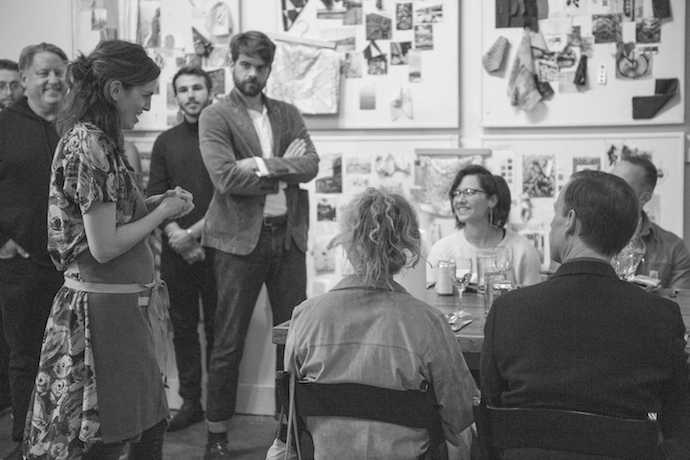 The vibe of Reid's boutiques—think: wood-and-marble staircases, refurbished pharmacy drawers, stocked bars and the general air of a tastefully renovated Charleston manse—proved integral to his success. After the dot-com bubble burst (his initial partner was involved) and 9/11 (he hosted a runway show on September 10th of that year), his fledgling line, then called William Reid, began to unravel, and Reid and his wife decided to move back to her hometown of Florence to start putting the pieces back together.
"I went back to freelance work, and I was approached by some friend about opening stores for a menswear collection," he says. "We decided to change from William Reid to Billy Reid, just because no one had ever called me William. It was one of those things, where, I just wanted it to be real."
They opened their flagship in Florence, and two more in Texas. Eventually, they set up shop in New York and scored a few key collaborations. The line took off.
"But the stores were really where it started," Reid observes. "Those relationships and that loyalty you can create, that one-on-one camaraderie and that time together, just makes all the difference in the world."
Despite their growth, Reid and his business have remained firmly rooted in Florence, and they have no plans to leave. It's an unlikely headquarters for a major American fashion brand, but the sense of community he's engendered there seems emblematic of his approach to retail—and his designs.
Rakish and dapper, occasionally whimsical but never showy, Reid's clothing exudes a homespun sophistication, a genteel elegance with a welcome splash of urbanity. The most quintessential pieces from the last two decades, Reid maintains, are some of his oldest: a denim shirt, now in five different washes, the original of which still hangs in his closet; a polo, first designed over 15 years ago, that's still his best-selling knit shirt; and the Bond peacoat, which went as viral as a peacoat could go after the actor Daniel Craig insisted he wear it on screen in Skyfall.
Of course, Reid's new stuff is pretty rad, too. From this season's collection, the designer recommends a washed chore coat, a versatile, throw-it-on-and-take-it-anywhere type of jacket.
"I just really want to stay doing what I'm doing," Reid says, when I ask him where he might be on the line's 40th anniversary, in 2038. "I think, you know, the key to that is you always have to be ready to evolve, and you've always got to be willing to stay curious, and learn, and continue to get better."