The man was clearly exhausted. A night of bourbon-drinking and Honky Tonk-dancing had taken its toll. He was deep in an uncomplicated slumber, his mouth agape, snoring loudly. One foot hung over the bed, its shoe hanging on his toes like a coat on a hook.
The man's friends stood by his bed.
"Steve," one of them said, trying to shake him awake. "Steve, time to wake up."
It was nearly 1pm. Steve's sleep continued unabated.
"What do we do?" another friend asked the group.
A short silence ensued. Then, something in the room shifted.
"There's only one person who can fix this," the third friend said, eyes darting towards the phone. "Quick. Let's call the Barbecue Butler."
—
This brief imagining has been triggered by none other than Dream Nashville, a spirited, yet refined 168-room hotel set at the historic site of the city's first boutique hotel, The Utopia, and its iniquitous neighbor, the suggestively-named Climax Saloon. It's open now in Printer's Alley, and yes, it has a suite with an on-call Barbecue Butler.
To be clear, with the exception of The Utopia's striking façade, nothing from those original buildings remain. But the hotel pays homage to its location—known during the Prohibition era as a hub for speakeasies and illegal gambling, and later for its clubs, where everyone from Jimi Hendrix to The Supremes performed—in its Art Deco details, and its playful mélange of muted hues and neon lighting, taper candles and shiny mirrors.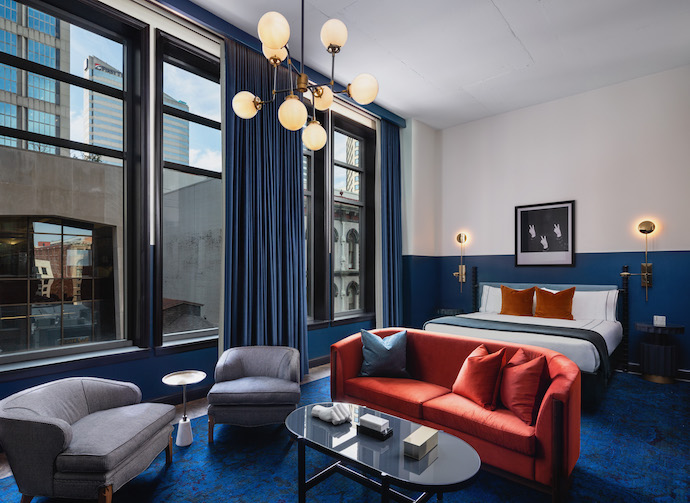 We envision you staying here over a long weekend with a significant other, or otherwise on a boy's trip of some kind—maybe even a bachelor party.
If it's the former, a spacious Platinum King room might do the trick, what with its giant windows, blue jewel tones and over-dyed Oushak rug. You'll also probably want to check out the swanky Parlour Bar for truffled cheese popcorn and barrel aged Sazeracs, before heading to Stateside Kitchen to split a sashimi platter and bone-in Ribeye. After which...there'd be no shame in heading right back up to your room.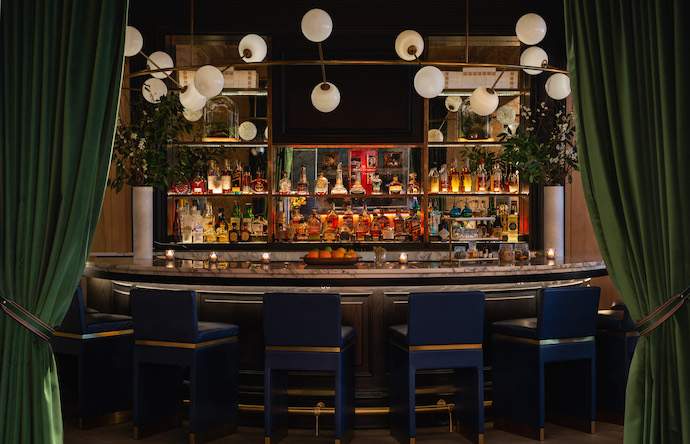 If it's the latter, though, you'd do well to explore the GuestHouse. That's the 1,400-square-foot Presidential Suite with a custom mahogany poker table and their own Dream Brew on tap. It's the perfect place to host a little after-party upon returning from Dirty Little Secrets, the music venue-cum-nightclub, nestled behind a row of false cabinets in the hotel's AllSaints store. And by "nestled," we mean "hidden."
Of course, the 1,200-square-foot Terrace Suite is an option, too. From April through October, its guests will have the option to reserve a Barbecue Butler, who will come over and cook Kobe beef hot dogs and slow-roasted baby back ribs on the suite's outdoor Caliber Grill, to go along with truffle mac n' cheese and lump crab meat.
All of which is practically guaranteed to cure even the worst hangovers.