We're not going to lie to you: this is an article about gardening.
But not the kind of gardening you think of when you think of gardening. There will be no going to Home Depot. There will be no digging around in the dirt on your hands and knees. There will be no wiping the sweat off your brow with the back of your gloved hand and exhaling loudly due to manual labor. And there will be no Crocs (unless you want there to be Crocs).
Instead, there will be the OGarden Smart. It's a cool-looking machine that more or less turns your living room into a highly functioning indoor garden. And, after being funded in just six minutes, it's available to order now on Kickstarter for a May delivery.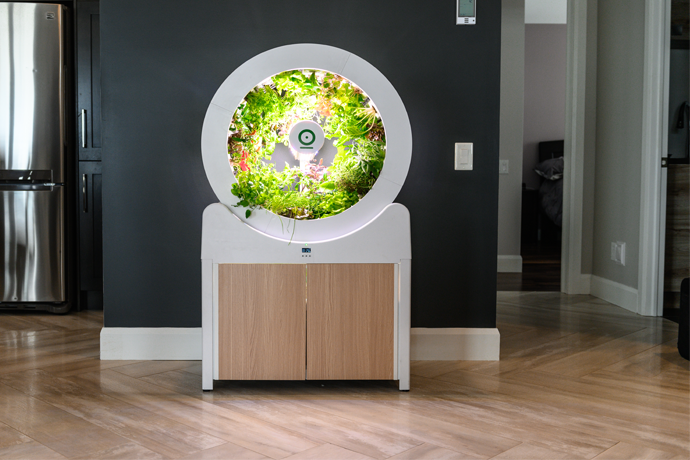 Take a look at this thing. It's wonderfully colorful. Sure to brighten up any room. But now take a look closer. Can you see it? The plants are growing, growing into food you can eat. Which is pretty fucking cool. And tasty.
In short, here's how this works. You'll buy this beautiful, minimalist wheel-like contraption. Then you'll get some seeds for plants you want to grow—tomatoes, strawberries, basil, green onion, lettuce, whatever—and put them in one of their seed cups, made with organic fertilizer and organic soil. When you've got a bunch ready to go, place them in the nursery cupboard (below the wheel) and press start. Three weeks later, transfer them to the wheel. A few weeks after that, harvest whatever you've grown, and use that good stuff to garnish cocktails, spice up boring dinners and generally make life happier and healthier. It'll be like eating "farm-to-table," if your farm was literally adjacent to your table.
Because of the way the OGarden Smart is designed, it can handle 90 different plants simultaneously—30 in the sprouting stage, 30 in the growing stage and 30 in the harvesting stage. And because it has the word "Smart" in the name, you won't be surprised to learn that it rotates automatically to water the plants itself, keeping the roots and soil permanently moist. It also uses low-energy LED lights to simulate the right amount of sunlight. Classic this thing.
Really, the device takes care of everything. All you have to do is choose your seeds wisely, change the tank once a week and watch it go to work. Plus: eat what you grow.
We don't see that being an issue.