This is the story of how one lost Lamborghini found its home.
In 1980, approximately 120 Lamborghini Countachs were manufactured. Sharp-angled and sexy, with scissor doors and a powerful rear mid-engine, they emblematized the uncompromising vision of the Italian sports car.
Two such Countachs ended up as show cars at a Lamborghini dealership in Switzerland, where the owner, imaginative man that he was, decided to install twin turbo-charged V12 engines, maximizing their torque and boosting their acceleration.
The pair toured Europe, showing up in a bevy of photographs with pagans in thrall to their quiet power. Then they became separated. One was sold to an American casino magnate named Bill Pennington, who took it home with him and was said to have displayed it, proudly, in his living room. But when Pennington died it went to his estate and disappeared somewhere along the way, lost, it seemed, forever....
Until now: today this practically one-of-a-kind 1980 Lamborghini Countach Turbo sits in The Store @ 250 Lafayette, which is like a car dealership crossed with an auction house for high-end art—but also very much neither of those things.
It just opened at that very address in Soho (in New York), and is operated by Rally Rd., a one-year-old tech platform (read: app) that lets people invest in rare alternative assets—namely, cool cars—from the comfort of their smartphones. Working with an elaborate network of dealers and collectors, they secure the rights to purchase rare cars—like the miraculously recovered 1980 Lambo—and basically set up a marketplace for anyone who wants to purchase or trade stock in them. It's like owning a small piece of a famous artwork, if instead of looking at it contemplatively you yearned to take it out for a spin on the PCH.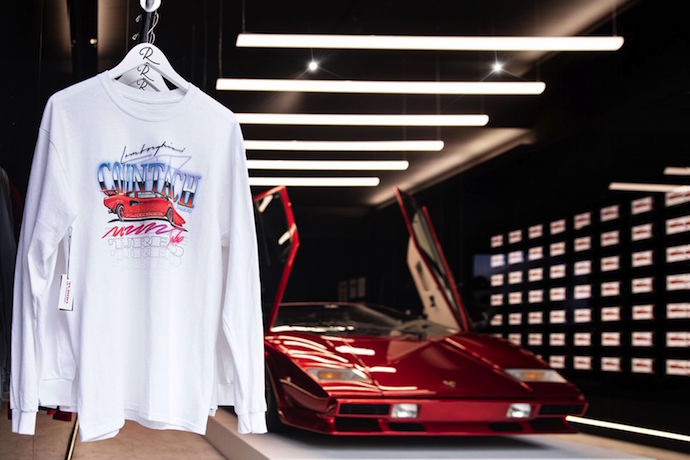 Over the past year, they've sold between roughly 2,000 and 5,000 shares for 20 different cars, ranging from $16,500 to $630,000 (the value of the Lambo) in value. After an initial offering—a period during which all the shares are sold—Rally Rd. offers monthly trading windows, during which people can buy or sell shares.
Like most anything else, the market determines the value of the cars, and they're subject to the capriciousness of trends. (For example, Lamborghinis became super relevant again after their star turn in The Wolf of Wall Street.) But, according to Rally Rd.'s co-founder and CEO, Christopher Bruno, cars have done better than most other alternative assets, like whisky, art and wine, over the long run.
While funds for those kinds of assets may exist, nobody's really manage to put it one together with as low a barrier-to-entry as Rally Rd., which hopes to eventually expand their offerings beyond covetable cars. They're also hoping to capitalize on what Bruno suggests is a growing comfort with digital securities (i.e., cryptocurrencies) and smartphone-based investing (i.e., the controversial Robinhood app).
Currently, the 1980 Lamborghini Turbo is still in its initial offering phase—meaning you still have a chance to own a piece of it yourself. Barring an investment, if you're in New York, you can go check out the car for yourself, and take in a legitimate piece of automobile history. Plus, they've got an exclusive line of shirts, tees and Lamborghini leather-scented candles available for purchase.
You've always wanted that new Lambo smell in your living room.