Due to circumstances outside of our control, we're going to just skip the clever intro here and cut to the chase: what we're about to show you is extremely fucking cool.
It's the Crafted Collection, which is a vague name for something oddly, wonderfully specific: a series of very limited-edition, handcrafted items that incorporate wood from barrels at the Balvenie Distillery, sold exclusively at one of our favorite menswear shops, Todd Snyder. It's goodies are available from October 1st to November 30th at Todd Snyder's Manhattan flagship store and online here, but we're telling you about it now because we have a feeling this stuff...might sell out.
Now, for the non-whisky aficionados in the digital building, the Balvenie is a storied single-malt scotch distillery from Dufftown, Scotland, founded way back in 1892. It's the only distillery that still grows its own barley. And their collection of extremely rare single cask whiskies is a sight to behold (and, err, sip).
You might imagine, then, that they wouldn't give their barrels to just anyone to repurpose. And they didn't. They gave the to various highly-skilled artisans to do their various highly-skilled things.
The result is a Balvenie snare drum (yes, a snare drum), hand-crafted from the fir timbers that housed the aged whiskey, by Louie Scalzo of SJC Drums. It's a stunning bar cart, designed by Brooklyn-based Swede Mats Christéen (of Foundrywood), which playfully riffs on the shape of the barrel from which it was made. It's a wood charcuterie board, infused with Balvenie-scented essential oils and Glencairn whisky glass recess. And, last but not least, it's a one-of-a-kind pair of dressy black leather boots (pictured above) with a heel fashioned from Balvenie wood. Hopefully, your feet fall somewhere between size 8 and 12—LA-based designer Raul Ojeda only made these bad boys in a few sizes.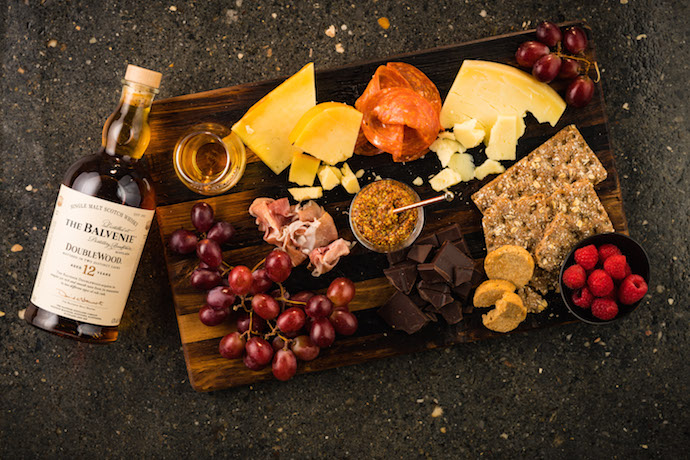 It's very reasonable to consider purchasing one of these pieces as a holiday gift for someone who loves whiskey. Yes, incredibly reasonable. But we wouldn't be above purchasing one of these items for ourselves, either.
No, not at all...