"O Canada.
O Canada.
You've just legalized marijuaaaaana."
That was our cannabis-themed take on "O Canada." Sung to the tune of "Oh, Christmas Tree," because we have know idea how it really goes.
And it's all to celebrate two things: 1) Last week our neighbors to the north legalized cannabis (the government is expected to choose an implementation date in September); and 2) Sunday is Canada Day. Okay, we just found out about that second thing.
What a coincidence. Because the important thing is getting high. And what you're going to do after getting super-duper, legally baked up in Canada.
Turns out, it's a big place. So we figured you may need some help finding some of the trippiest, most kicked-back or simply weirdest places to soak up after toking up in the Great White North. Enjoy this province-by-province guide to hanging out in Canada when you're stoned AF.
QUEBEC
Montreal
Habitat 67: A strange configuration of gravity-defying apartment structures that look a Stars Wars desert scene made love to a Jenga.
Nacho Libre: A kitschy bar with video games, swings, Mexican food and the occasional Drake-themed night.
Atwater Cocktail Club: A 1950's-inspired bar where your drink might come in a panda, killer whale or smoking bell jar and your butter-and-black truffle spaghetti comes from the sister restaurant next door.
Bar Brutus: The menu at this small, retro bar is all about bacon. Bacon nachos, bacon pickles, bacon dumplings and poutine with Jagermeister gravy with options of bacon flambé and a Jaeger shot. In case you get hungry for bacon.
The Alone Together Exhibit at Contemporary Art Museum, Montreal: A multi-artist exhibit involving questions of isolation in solitude, one of the exhibits has you viewing a film while on display in a glass box. Hope you don't get paranoid. (Through Aug 26)
Just For Laughs Fest: A Montreal-wide fest out to split your ribs in July, comedians including Dave Chappelle, Trevor Noah, Will Forte, David Cross and Tiffany Haddish will be there. Well, naturally. She's everywhere. Jul 11-29
La Banquise: AKA Montreal's weird-poutine nirvana.
ONoir: A dining in the dark experience with upscale menus served by visually impaired staff.
Quebec City
Parc de la Chute-Montmorency: It's a big gorgeous park with waterfalls higher than Niagara's outside of Quebec City. Where, just a reminder, you can legally get high.
Le Festival d'été de Quebec: A massive, 11-day music fest in Quebec City featuring rock hero (and son of Canada) Neil Young, the Weeknd, Future, Greta Van Fleet, the Foo Fighters, Femi Kuti, Jethro Tull and basically everybody else interspersed with a lot of French artists.
ONTARIO
Toronto
Chill Ice House: Hit this place for a party in a year-round igloo where even the cups are made of ice.
The Lockhart Cocktail Bar: This adults-only, Harry Potter-inspired bar and tapas spot has locations in both Toronto and Montreal. Go ahead, you're high.
Pretty Ugly: A double-headed Toronto bar with a vibrant mezcal stand in front and a cool cocktail palace in back. The non-alkie drinks hold up if you don't like to mix your drinks with your dank but still like to hang out.
Gift Shop at Ossington: What looks like a corner barbershop hides a stronghold of clever drinks in back.
Hillside Festival: A big ol' eco-friendly, non-profit music festival on a lake featuring a huge, eclectic lineup of artists, including Rhye and Elijah Woods (no, not Elijah Wood. Elijah Woods). Anyway, something tells us this thing will be amenable to cannabis usage. (Jul 13-15)
Veld Music Festival: This is a big-one for Canadian EDM and Migos fans. (Aug 4-5)
Toronto International Film Fest: Get high with a friend. Sit around at a couple of movies. Consider yourself cultured. (Sep 6-16)
Ottawa
Maman: Spiders, a giant 30-foot spider in Ottawa! Man, this Canadian shit is good.
Atari: A video game-themed Ottawa destination for lobster potstickers, live painting, DIY tartares and numerous cocktails.
Bar Robo: Really the best place in Ottawa's Chinatown for duck nachos and housemade Cracker Jack while taking in a show or wild party. If we're being honest.
Bonnchere Caves: These Ontario caves are mind-blowing anytime, no less when they're hosting the occasional underground dinner and or summer concert series.
Elswhere in Ontario
River & Sky Festival: This music festival in Field, Ontario has "river" and "sky" in the name and takes place in a spot called Fisher's Paradise. Sounds pleasant. (Jul 19-22)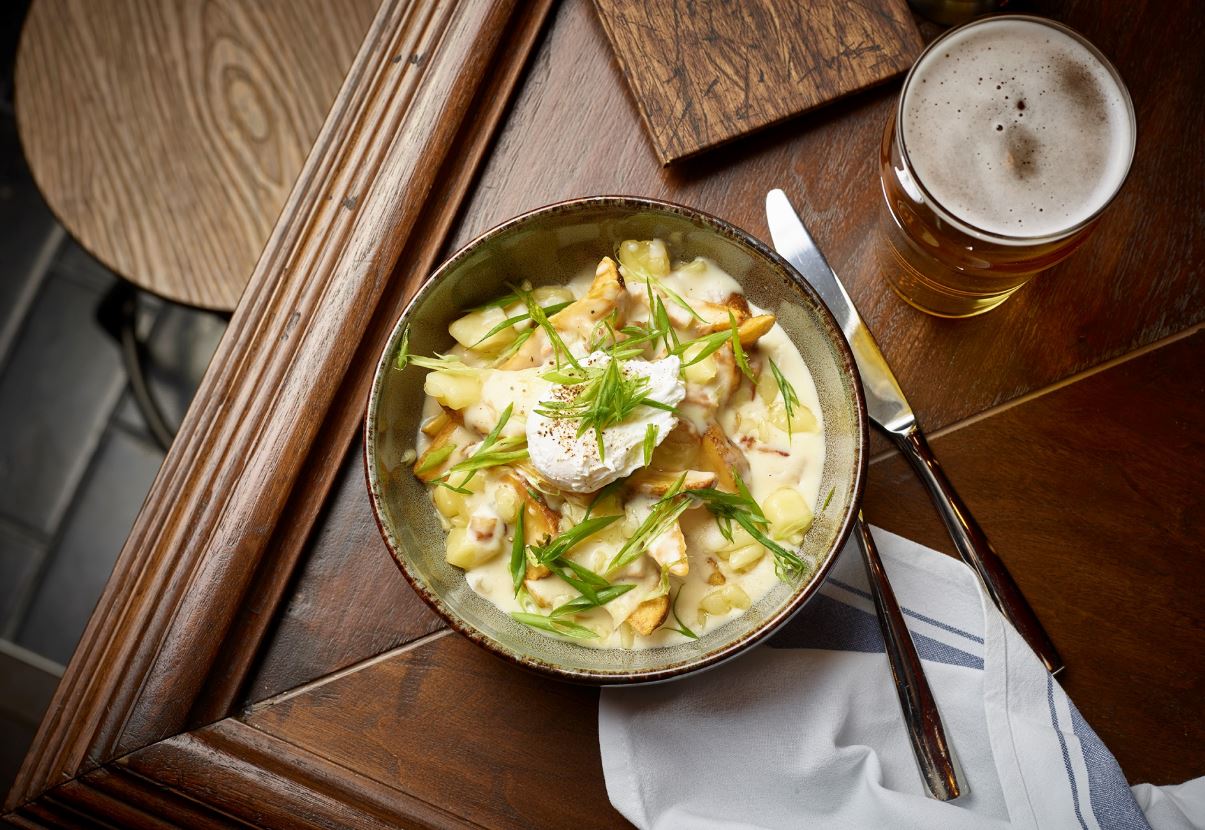 BRITISH COLUMBIA
Vancouver
Try the poutine at BC Kitchen at Parq Vancouver. The one with steak-cut fries, mozzarella curds, housemade gravy and a slow-poached egg on top.
Dude Chilling Park: Ok, it's just a funny sign placed on the lawn of a Mount Pleasant park. But that lawn looks perfect for a nap.
Cambie Climbing Tree: A tall evergreen full of easily climbable branches supporting toys, swings and toys on the way to the top.
Shambhal: It's year 21 for this massive music festival taking place on gorgeous Salmo River Ranch. I bet everyone cleans up after themselves at Canadian music festivals, too. (Aug 10-13)
The Black Lodge: A Twin Peaks-themed bar with two locations. Beware of Bob.
The Shameful Tiki Room: Appropriately crazy and totally necessary tiki glory in Vancouver and Toronto.
Prohibition: a beautiful, underground, vintage Vancouver bar where the cocktail menu is based on moods. There's no melting-into-the-chair section, but there is a "Creative" side featuring a cocktail made with Pop Rocks named for Machine Gun Kelly.
VanDusen Botanical Garden: Come for the lush gardens, stay for the Elizabethan hedge maze. At least until you find a way out.
Storm Crow Tavern: A full-on nerd bar named after a Magic: the Gathering reference with board games, burgers, beers and naturally, nerds. Anyway, nerds usually have good drugs and are up on their Westworld.
ALBERTA
Calgary
Sky 360: You're munching on Canadian bacon burgers and wild game meatballs while rotating 360-degrees high above Calgary, enjoying views that reach to the Canadian Rockies.
Calgary Folk Fest: If you have an itch only a mandolin can scratch, you can head to this 3-day fest featuring Alvvays, Neko Case, the Milk Carton Kids and Joe "Is She Really Going Out With Him" Jackson. Tell us about it, Joe. (July 26-29)
Chasing Summer: A 48-hour EDM fest for Calgarians. Weed may actually be the only legal thing you'll find here in the end. Aug 4-5
Edmonton
Art Gallery of Alberta: The exterior looks like some trippy codpiece designed by Frank Gehry. It's neither. Meanwhile, the inside has art-making stations and lots of mind-fucking contemporary work.
Clementine: This superior Edmonton bar gives you the opportunity to drink absinthe cocktails (even the beer glasses are rinsed with the spirit) under an impressive chandelier while eating tobacco-smoked triple cream brie and oysters. You want a green fairy, you get a green fairy.
Interstellar Rodeo: Going down in mid-July. And with a name like Interstellar Rodeo, we feel we don't need to sell it too much. July 20-22
MANITOBA
Winnipeg
Winnipeg Folk Festival: We're talking Courtney Barnett, Sheryl Crow, Lee Ranaldo, Whitney, St. Paul and the Broken Bones and more. So many, many more. (Jul 5-8)
Narcisse Snake Dens: it may not be every stoner's idea of a good time to watch zillions of harmless snakes writhing all over each other in rural Canada. But then again, it might be exactly that.
NEW BRUNSWICK
Evolve: Said to be Canada's "greenest" festival, it's a four-day affair. What more do you need to know? Here's the lineup. (Jul 6-9)
NOVA SCOTIA
Riverfront Jubilee: A 3-day music festival concentrating on homegrown Canadian artists. (Aug 3-5)
NORTHWEST TERRITORIES
Folk on the Rocks: An international draw for its beautiful lakeside location, this will be the 38th year of this artist-packed festival. (July 20-22)