Jeremy Meeks, commonly known as "Prison Bae" or "Hot Felon," has grabbed headlines yet again this week, after news broke Monday that his girlfriend, Chloe Green, the British heiress to the Topshop fortune, is with child. The two have been romantically linked since they were spotted together last summer, canoodling on a yacht; they've also been recurring stars of the Daily Mail's wildly addictive Snapchat story, which, given its mixture of Jerry Springer-esque news items and predilection for C-list celebrity dating rumors, has taken a natural liking to a hot young socialite and her ex-convict-cum-model boy toy. This latest development, worthy of an exclusive in the relatively less-tacky US Weekly, has, if anything, solidified their status in the public consciousness. They have become, without a doubt, one of the most fascinating tabloid subjects in recent years, an irresistible oddity grounded less in bona fide celebrity, and more in old-school notions of wealth and class. Their romance is a discarded Gossip Girl subplot, come to life in the Instagram era.
Meeks first burst into the spotlight by accident. On June 18, 2014, the Stockton Police Department posted his mug shot on their Facebook page, as part of an announcement regarding a multi-agency mission's successful response to a spate of recent shootings in the area. Meeks, then 30, and already a convicted felon, had been arrested on felony weapon charges (he was also reportedly a member of the Crips gang). Nonetheless, his mug shot went viral, garnering thousands of likes, shares and comments: the people were thirsty, and they were thirsty for Meeks. Less than a year later, Meeks secured a modeling contract, while he was still in prison. Since being released, in 2016, he's walked on runways from New York to Milan, for designer Philipp Plein. As male models are wont to do, Meeks has also expressed interest in acting.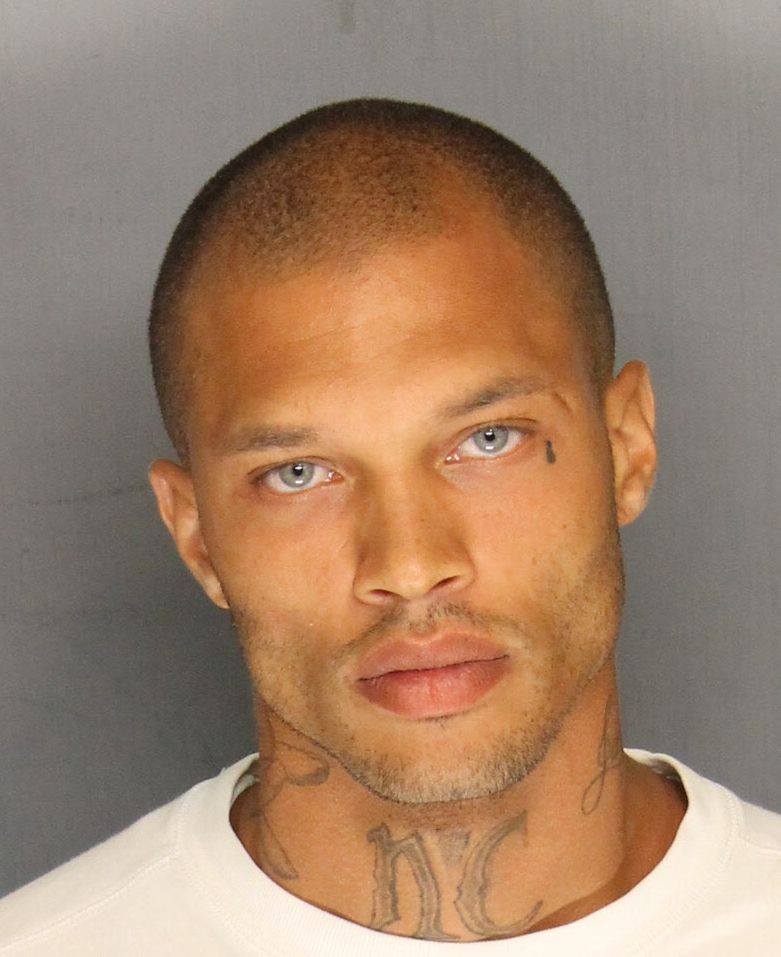 In the initial mug shot, Meeks's head is cocked, with his icy blue eyes trained intently on the camera. Various tattoos crawl up his neck from under his white shirt. The expression he wears is one of repressed anger and slight resignation; he looks over it, whatever "it" may be (the law?). Ironically enough, he does seem like a male model, practicing a look that wouldn't be out of place in Derek Zoolander's arsenal. That a police photo presumably meant to strike fear instead inspired lust calls to mind the timeless, backfiring attempts of fathers who tell their daughters to stay away from this person or that, and in so doing, push them closer together.
Certainly, this aspect is integral to Meeks and Green's appeal on the public imagination. As the heiress to her father Philip's fortune (estimated in the billions), Green, who has been in the limelight most of her life, is the penultimate rich girl, Meeks her forbidden paramour from the wrong side of the tracks, who, after a life of crime (and, err, other family) is ostensibly trying to be good. Theirs is a love story as old as Romeo and Juliet, iterated throughout history, yet uniquely specified for our times.
In the past, our bad boy heroes have been good-looking, yes, and bad boys, for sure, but they've also shown some other redeeming qualities. John Bender, from The Breakfast Club, may despise authority, but he's also quick-witted and irresistibly damaged; Ryan Atwood, on The O.C., may have violent tendencies, but he's also insanely loyal and weirdly adept at architectural planning; Danny Zuko may be a greaser, but dude can dance. This isn't to say Jeremy "Hot Felon" Meeks can't shake it, or doesn't know his way around a commercial real estate blueprint. And it's not like Daily Mail Snapchats and the like have the narrative capabilities of teenage soaps or musical comedies. But in the public eye, and in his occupation as a model, Meeks is beloved merely for his hotness, the shallowness of which has flattened his bad boy past into an ahistorical modifier. To the general population, Meeks can be a bad boy not because of anything specific, but just because, enabling us to "like" him without considering the kind of messy past we might not be so willing to forgive another public figure.
Despite all that, the Meeks-Green relationship arrives as a welcome relief in our Kardashian-saturated celebrity culture. Their narrative was organically and exclusively created by and perpetuated in the tabloids themselves; it's lowbrow, but carries a whiff of Shakespearean sophistication missing from, say, Scott Disick's fling with Sofia Richie. And Meeks is a social media star unlike almost any other in the age of vloggers and wannabe influencers—authentic in the sense that, not only did he not do anything to become famous, he did not do anything to try to become famous. He just did. And now he just is.