Akin to so many other great inventions, Dave Zellinksy created BedBeats as a solution to a simple problem.
"I legitimately came up with the idea, because the playlist and music was pulling me out of the moment," he tells me over email.
Of course, "the moment" of which Zellinsky speaks is sex: he was having sex. And, rather than keeping him in the zone, the music on the playlist he'd created was drawing him out. So much so, evidently, that he decided to design an app to address that very specific, albeit somewhat universal(?) problem.
BedBeats, now available for iPhone and Android users, is the first app expressly designed to sync music to your sexual rhythms. Using the internal sensors in all Smartphones, you can simply open the app, turn the volume up (or sync it to a speaker), place it on your bed and BedBeats will escalate or slow down its built-in tracks (a six-song starter pack represents six musical styles, from funk to EDM to smooth jazz), depending on the motion you and your partner generate while doing it. Each track has seven levels of intensity, made to match every stage of your love-making, and you can adjust the settings based on the firmness of your bed.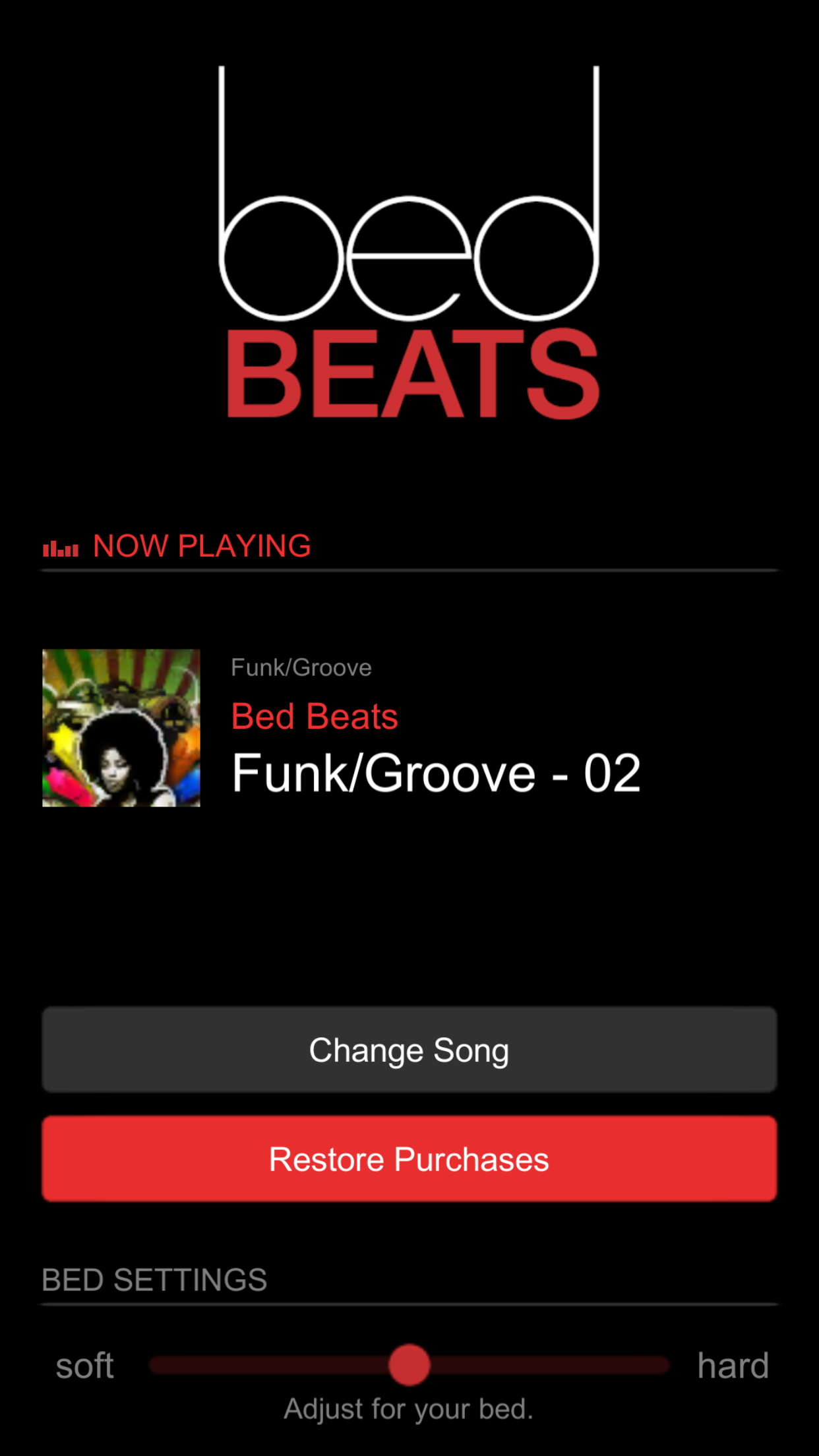 To help give me a better understanding of how the app functioned in real-life, Zellinsky presented the following scenario:
"Turn [the] phone on, place [it] on [the] bed. Couple starts kissing (Level 1 is triggered, it's simple music and not intense, minimal grooves and drums). As things heat up and foreplay begins, app responds from the bed moving a bit more and triggers level 2 or 3 (the music will now add a bit more groove to the mix). Now things get more exciting and foreplay intensifies, you move around more and the music responds with level 4 and 5. For [this] scenario's sake, maybe at this point things get a bit more sensual and intimate, the app responds to less motion and music goes back to level 3. Now it's go-time, and intercourse begins; rhythmically, the app kicks up to level 5. Music is getting pumping [Ed. Note: Ha.] and vigorous. Finally, intercourse has hit its peak and so has the app. Level 6 and 7. Music and groove is intense, climax and collapse. The app notices little motion, and drops the track back to level 1 or 2."
Being single, and unwilling to mimic sexual movements on my bed alone, I admit that I've yet to try the app myself, so I can't speak to its efficacy. But personally, the fact that it doesn't work with actual songs, like the ones you would choose for your own playlist (sex-specific or not), is a bit of a letdown. Plus, the idea of pausing the action to deliberately open a sex-music app might come off as kind of strange, particularly if its still early on in the relationship. That said: maybe it's something you try with a long-term partner, just for shits and giggles. Provided, of course, that you don't sleep on a Tempurpedic mattress.