Beloved spoof publication MAD magazine is getting a makeover. The humor mag announced via Twitter today that it will effectively set the clock back to zero, launching a "first issue" in April to coincide with its new look. Owned by DC Comics, a subdivision of Time Warner, MAD is helmed by former Simpsons artist Bill Morrison, who took over for longtime editor John Ficarra last year, making the controversial decision to shift the magazine's headquarters from New York to Los Angeles.
"Get ready for an all Neu-man and an all new MAD," touts a graphic showing the mag's redheaded mascot Alfred E. Neuman in a suit and tie, signature gap-tooth replaced with a gleaming white smile.
"I knew moving to the west coast wouldn't change MAD too much," wrote DC co-publisher Dan DiDio on Facebook, according to Entertainment Weekly.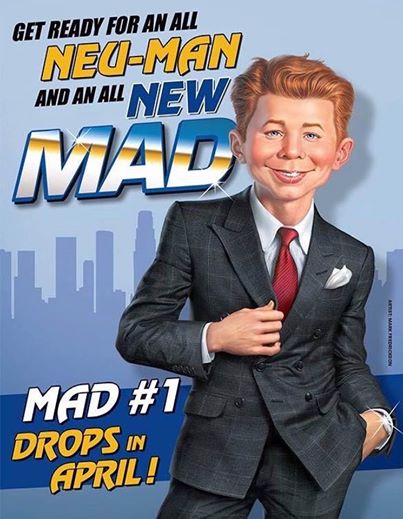 The 66-year-old magazine, which was founded in 1952 by editor Harvey Kurtzman, was once a cultural touchstone as well as a right of passage for a certain breed of subversive (and mostly male) adolescent, but has, like many print publications, seen a vast decline in both readership and prestige over the years. It's 550th issue, which was released earlier this month, prompted The Daily Beast to dub the magazine "redundant" within contemporary culture.
"In a world where Donald Trump as president and Oprah Winfrey as his corrective successor can be yukked about and Photoshopped within minutes online," wrote Thomas Vinciguerra, "what's the point of MAD?"
What, exactly, this shiny new look will change about MAD's content—and thus, its continued relevance—remains to be seen, but there's likely to be plenty of nostalgic one-time readers paying attention.