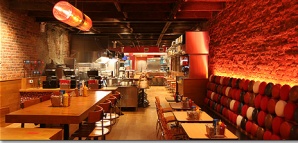 When you want a burger, you want a burger done right. And there isn't a single restaurant in the city that does just that, claims executive chef Chris Russell (fighting words if we've ever heard them).
In order to remedy the situation, last night Russell opened
brgr
in Chelsea, joining the family of
non-voweled meat havens
around the city. To show he takes the matter seriously, Russell toured the country for six months, tasting every cut from grass-fed cows (not the usual chuck and round that goes into ordinary burgers) to craft the perfect (and secret) custom-blended burger that is, frankly, one of the most delicious patties we've had the pleasure of tasting.
But Russell's meticulousness doesn't stop with the beef—he's gone through a similar process with his turkey and veggie burgers, as well as the thick-cut bacon he's smoked with apple pumice. Brgr also serves beer tapped from kegs half-buried in ice (
Peroni
and the seasonal
Brooklyn Brewmaster Reserve
) and wine selected monthly by Russell.
The rugged, brick-enclosed space (designed by the Rockwell Group) is a cozy neighborhood haven for all the burger and beer goodness.
Now all we need is an opening of a restaurant called "HTDG" and our lives will be complete.