If the Super Bowl has taught us anything over its storied 52-year history, it's that we can no longer trust humans. Every year we listen to the experts praise a Denver offense over a Seattle Legion of Doom, only to assure a surefire Carolina W over a lousy Denver O merely two years later. Hell, I witnessed a Falcons fan walk out of a Super Bowl party last year at the infamous 28-3 mark... because he wanted to celebrate at home. Which is why I am here to tell you, when it comes to football picks, you may only put your faith in three entities: Tom Brady, Paul the Octopus, and Madden computer simulations. That's it. And since one of those is actually playing, while the other is no longer with us (RIP Paul), we must solely rely on the latter—the world's most prestigious sports-game franchise currently sitting on a 10-4 pick-record over the last 14 Super Bowls.
So who do the bots at EA Sports have this year? After all, they got last year's Pats comeback right (albeit not to the miraculous extent that reality gave us), and that turned out to be a bunch of fun. But this year it's the Eagles who will have the final shot at Super Bowl glory—and they will fall short.
Credit Nick Foles, who puts an awful lot of mustard on that final deep ball to Alshon Jeffery, but it looks like New England will again make the right plays at the right time to nab a 24-20 win. It also appears Tom Brady will aptly toss three touchdowns on his way to 342 yards and a Super Bowl MVP in the matter. But if the simulation proves especially accurate, it looks like we'll get a handful of next-level efforts from a few other key players, as well. Just take a look at the hang time on this Danny Amendola hurdle-from-heaven: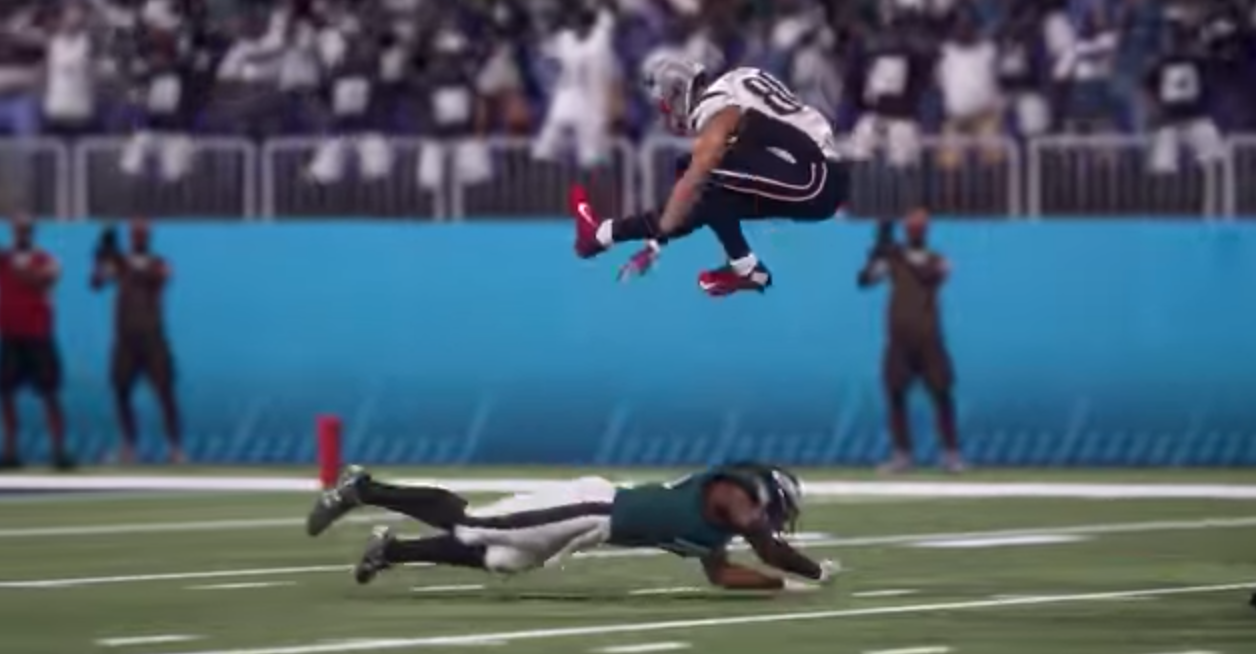 "BOOM! That's how you avoid a defender in the open field." (Though especially one gunning for the classic headfirst-baseball-slide-cleat-tackle.)
Let's also take note of Philly safety Rodney McCleod's solo backhand interception on Tom Brady late in the third—stealing a page right out of Odell Beckham's playbook.
Combine those with Rob Gronkowski's apparent escape from concussion purgatory and we've got ourselves a damn-exciting football game this weekend—just one we already know the score to.