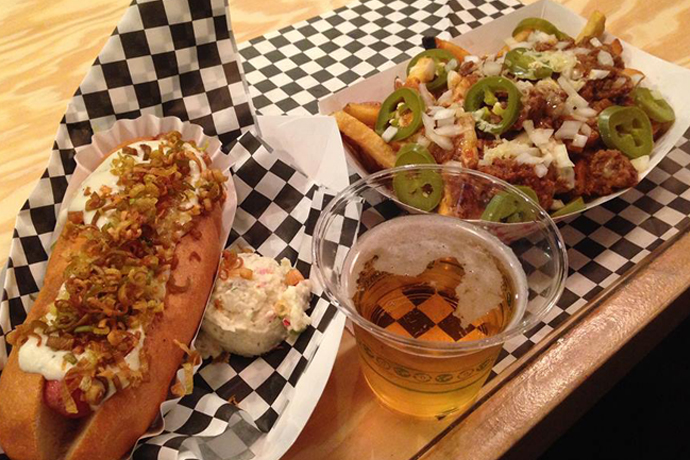 A hot dog is a hot dog is a hot dog.
Unless a hot dog is topped with white cheddar béchamel, crispy leeks, garlic confit and watercress.
Then it's more like something you'd find at Diamond Dogs, a casual new spot that's open now off Jack London Square with local beer, a patio and, yes, many a fancy-pants hot dog.
There's pretty much something for every occasion here. Let's investigate...

You want a version of that hot dog everyone's cooking on the streets but don't want to live with a lifetime of regret:
The bacon-wrapped Sonora Dog with pinto been purée, rajas, avocado, spicy relish and cilantro crema has heard your cries.

You're there to watch the game and don't plan on kissing anyone soon:
Kindly allow the chili cheese dog with beef chili, pepperoncini, mustard and raw onions to step in.
You like Italian food, but wish it could be more… American:
The Bruschetta Dog with fresh mozzarella
is the play. The elongated meat stick is the American in this equation if that wasn't clear.
You're on a date and want to pretend you eat healthy:
The house salad with butter lettuce, pickled red onion... just kidding, you're getting a Churro Sundae.
Churros are healthy, right?