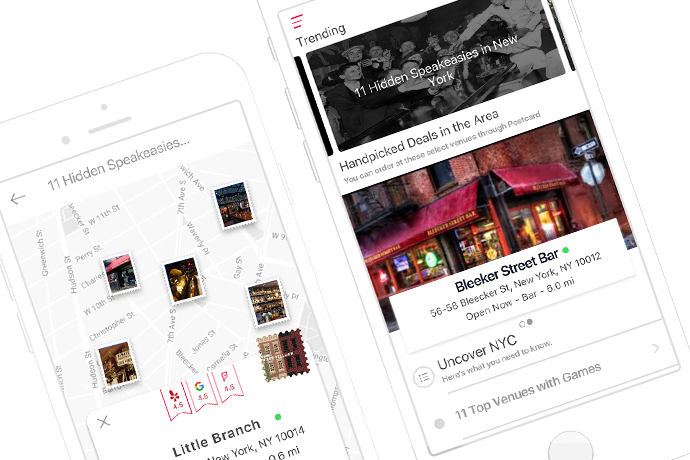 Every now and again, something comes across our desks that requires extra scrutiny. And so we scrutinize, extra, for you.
We call it: Skeptical Investigation. (Trademark pending.)
THE CLAIM

Postcard
, which just launched
here
, is an app that uses a unique algorithm and realtime social content to tell you what the hottest spots are in NYC at any given moment. It analyzes whether certain venues have had high social media activity at a specific time over the last couple of weeks to determine whether it's worth your while—then compiles the venues onto a live heat map, where you'll be able to see your best options and decide where to head. 
THE INVESTIGATION

Our crack team of experts (read: people that spend probably too much time on social media and definitely too much time in nightlife establishments) downloaded the mobile app at 6pm on a Thursday. Ready to receive some happy hour recs they may not already be privvy to, they began by tapping the "Current Location" icon. It brought them to a city map, where they were able to drag and zoom around to check out the hottest venues around them at the moment. They were able to see which of these spots were currently open (note the green dot), whether there are any super recently uploaded photos (note the fire emoji), and other photos culled from Google, Foursquare, Instagram, Yelp, and the like taken at similar time on past Thursdays. If they were to log on later, the photos would be updated to represent what you could expect...later. Pretty sweet. 
Some wanted a charming cocktail spot, so they filtered by "Cocktails" and let it do its thing. Others wanted a steak, so they filtered by "Steakhouse." It went on like this. Back on the homepage, a couple of us tapped into articles like "6 Hidden Bars With Great Outdoor Spaces" or "7 Unexpected Date Spots"—roundups that led over to a map dotted with the spots that made the cut. 
If your friends were to make profiles, you'd be able to see where they're at on the map, too. So tell them to make profiles, if that sounds appealing.
Lastly, there was a "Hot Nearby" area, with curated local picks: a healthy mix of food and nightlife venues. We supported most of their ideas, which included the newly opened Emily for pizza and East Village favorite Mother of Pearl for tropical-leaning drinks.
Satisfied with their findings, the team left the office: some on their way to spots they had heard about but never been, some set off to explore venues beyond their wildest dreams, some home to order Seamless and sit on their couch. 
THE CONCLUSION

While still in its early stages, we found the interface to be intuitive and the venues to be relevant. We can see it getting better as more people join, more venues are added and if they considered changing their name.
Joking.
We'll be keeping tabs on you, Postcard.