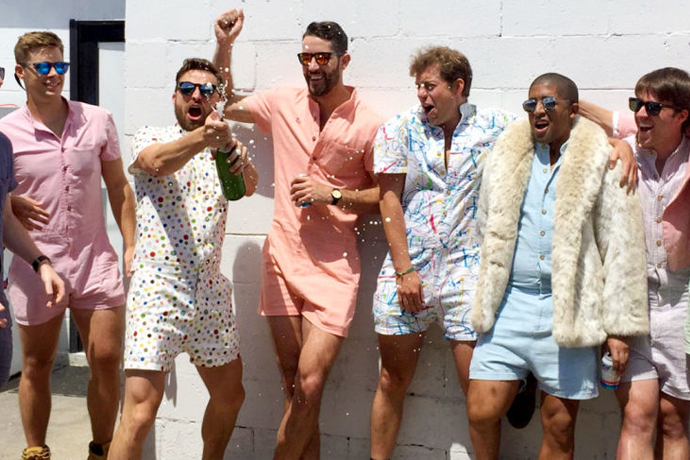 Perhaps you've already heard the gnashing of teeth over
RompHim
, a new Kickstarter that's bringing the male romper to the masses.
The folks over at 
Esquire
Don't Want to Live on This Planet Anymore
.
NY Mag
's The Cut warns of the
Agony and Ecstasy of Wearing a Romper
.
At
Elle
, they're taking up arms, declaring they
Cannot Stand Idly By and Let the RompHim Happen
.
Well, what do the bros over at RompHim have to say? Especially after surpassing their funding goal many times over, making this new fashion oddity seem all but inevitable?
"It may just be a fashion revolution."
Really. One of them said that.
But regardless of where you fall on this hotly debated topic, we're not here to judge, we are here to guide. So, in the event you were one of the people who pledged those tens of thousands of dollars (and counting!), we've laid out the six times it would definitely appear necessary to wear this unicloth equivalent of a pair of boatshoes doing a kegstand at an alumni fundraiser brunch.
1.
You're a giant toddler.

2. You're a sexy European handyman—like Luigi from Super Mario Bros.

3. Your American flag cape is in the wash.

4. You packed your bag to a music festival with so many changes of flip-flops and puka shells that you only had room for one single garment to wear all weekend.

5. You've received a formal invite to a dock party that specifies the dress code as "Business-Douche Casual."

6. Maybe you're just a bro who likes rompers. Which, okay. We guess.