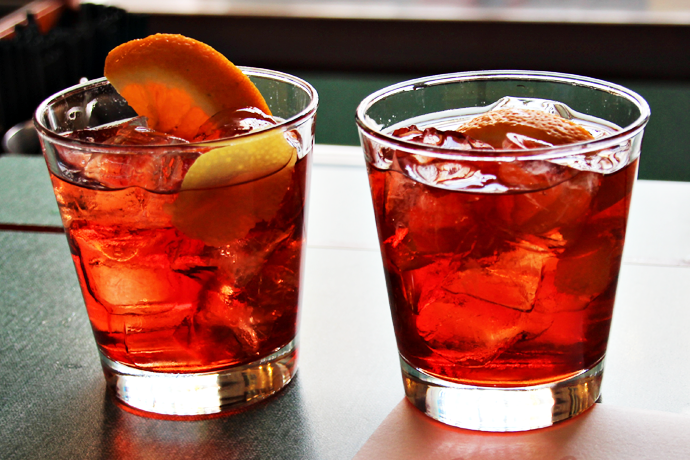 It wasn't supposed to be like this. The day's temperature was forecast in the 50s, so a light cricket sweater seemed like a wise choice. But the bar I've ventured to is surprisingly hot, so I've taken the sweater off and tied it around my shoulders, Thurston Howell-style. I'm just now realizing that, taken with the rest of my outfit—a striped oxford-cloth button down, khakis and tassel loafers—I look, well,
twee
. It doesn't help that I'm standing next to my brother, who's wearing a full suit. Very twee.
It helps even less that we're standing in
Bar Luce
, the Wes Anderson-designed bar inside Milan's Fondazione Prada. Twee forever.
The extreme tweeness of the situation is hammered home when a woman asks if she can take a photo of my brother and me at the bar. I'm slightly baffled, but consent. Just as she takes a photo, another woman a few tables away takes our picture as well. We also receive an enthusiastic thumbs-up from a middle-aged man at a standing counter. I'm confused, until I realize that the man's amusement comes from the fact that my brother and I are drinking Negronis. The time is 9:30 in the morning.
The rest of Bar Luce is sipping espresso and picking over pastries. It's a whirlwind of small talk, and Italian oldies are playing from a vintage jukebox. The jukebox sits next to two custom pinball machines, themed after
The Life Aquatic with Steve Zissou
and
Castello Cavalcanti
, the short film Anderson directed for Prada.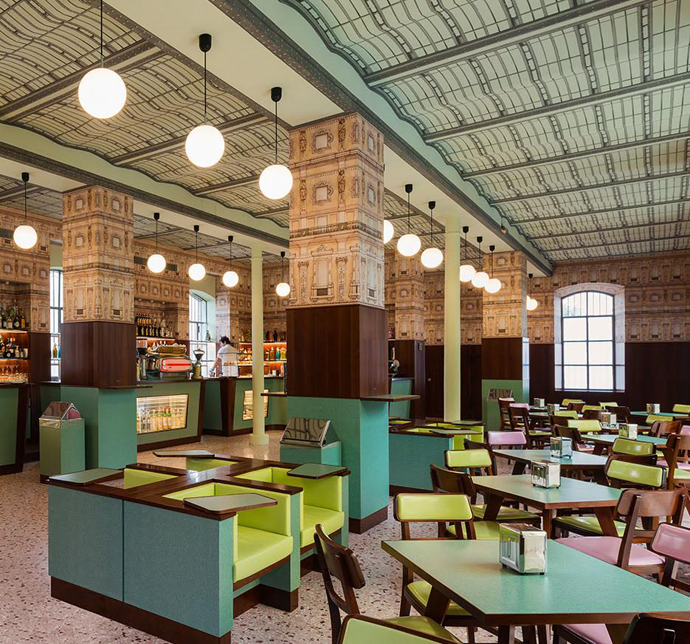 Like anything else directed by Anderson, Bar Luce is both beautiful and unsettling in a surreal, dollhouse-like way. Take the printed surfaces. The primary wallpaper recalls the neo-classical facades of Milan's apartment blocks. A print covering its wavy ceiling mimics the glass roof of Milan's iconic Galleria Vittorio Emmanuelle II. Even the mint-green bar top, which looks like it would have a grainy, plastic texture, is just the result of a 2D print.
However, nothing upsets me quite as much as when I notice a girl eating a thick wedge of cake that can only be described as Pepto-Bismol pink. She's sitting in an odd, square chair with a pullout tabletop that recalls a desk from grade school. The cushion is the exact same color as the cake.
My mind whirls. I spin around and look at the shelves behind the bar. There are enormous, industrial-size jars of dijon mustard. Are those real? Come lunchtime, will an employee actually pull one of those down and use it to slather a ham-and-cheese sandwich with dijon? Or is it all just for show?
Going further: are we all just for show? I fear that the word "cut" will be spoken, and the entire bar will enter a state of suspended animation. We'll all just stay that way until Wes, in his corduroy suit and spotless Wallabies, walks up to breathe life into us once more...
Then I take a sip of my Negroni. I'd watched it being made: the friendly bartender, who couldn't pass up a chance to joke about our "breakfast," deftly stirred up the mix of Beefeater Gin, Carpano sweet vermouth and Campari. He poured it into a chilled glass filled with large chunks of cracked ice, and garnished it with an orange wedge and a lemon rind.
It appears that real thought and preparation have gone into this Negroni: so it can't just be for a movie set, right?
The Negroni is perfect—it's candy sweetness cloaked in bitterness, balanced and chilled just as it should be. In fact, it's easily the best Negroni I've had in Italy.
The bartender also brings us a spread of snacks that typically emerge during the Italian aperitivo hour. It's nowhere near aperitivo hour, but considering how we've chosen to begin the day, it's highly appreciated. There are fat olives, marcona almonds, and—in a very Wes Anderson flourish—a teeny tiny hot dog croissant. It's all delicious.
Later, as I leave the bar—tragically, I haven't had the chance to play the pinball machines, which require actual vintage Lira to play—I have a hard time getting myself to the door. It's not that I am seeing double. The Negroni wasn't
that
potent. It's that after years of watching
The Royal Tenenbaums
and
Fantastic Mr. Fox
back-to-back, I've had the chance to briefly exist inside of a Wes Anderson movie, and I don't want it to end.
But while this place may look indistinguishable from a Wes Anderson movie, it's really just a bar. One that makes a damn good Negroni. And ultimately, no amount of Anderson-ness is as important as correctly fashioning a classic cocktail. Fortunately, Bar Luce seems to agree.