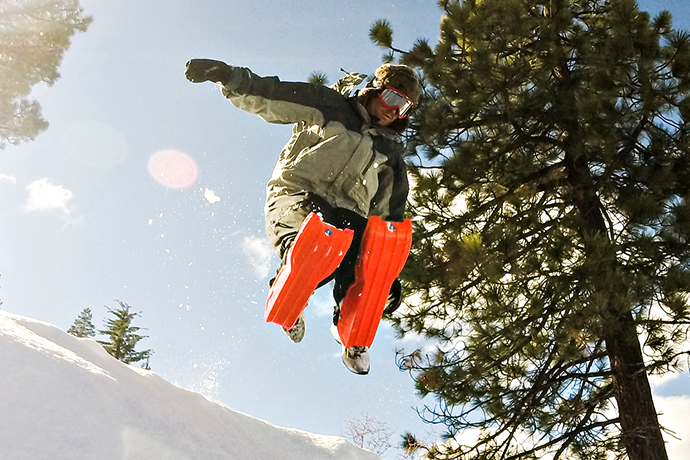 We're almost there.

The final winter stretch.

It's just about that time when we stop talking about skiing, hot toddies and escaping the cold.

But... it's just... we're not quite there yet.

First, we have to talk about Sled Legs.

Okay, so Sled Legs are miniature sleds meant for slapping onto your legs before hurling yourself down a mountain on your knees, available now for your late-winter entertainment.

Right. So, the sleds consist of two hard orange shells: each filled with foam padding for your knees' protection and adjustable straps to get them on just right. They've got contours to help you carve, and they come in a couple sizes to accommodate different heights. You'll note that we just described pretty normal-sounding sleds that fit on your shins. And that's just what they are.

Your plan of action might start with trekking up your nearest mountain. Or, sure, your local golf course. Strap on these orange beauties. Ask the nearest person to begin livestreaming, because this should probably be documented and shared with as many people as possible.

Then take a running start, throw yourself down on your knees with gusto and carve your way down the hill—you can lean side to side to carve, skiing-style, and utilize the age-old pizza-wedge technique if you find yourself going too fast or speeding toward a small family holding hot cocoas. When you get to the bottom, stand right back up and do it all over again.

Then, and only then, will you be ready for spring.