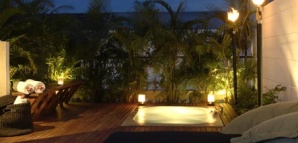 Yes, it's nice to share, but sometimes you just don't want to.

Hence the egocentrically reclusive One Hotel Angkor in Cambodia, which has—yes—just one room. But it's one pretty nice room.

Tucked on the Passage, a bustling lane in Siem Reap, One Hotel rests in a converted French colonial townhouse, and is actually a luxe two-story suite featuring a private rooftop terrace with a Jacuzzi and outdoor shower. You get a cell phone upon arrival, which you can use to literally beckon and call the service staff to fulfill your every need (it's not like they have other guests to attend to).

Balconies flank both floors, the sleek bedroom features a mod king-sized wood sleigh bed, and rooftop Khmer massages keep the pressure of being so very important from getting to you. When you do feel like leaving your room, the souk-like Psar Chas (Old Market) and Pub Street are around the corner, or have your personal chauffeur get you inside access to the Angkor ruins that are off-limits to the general public.

And if you're feeling particularly, well, needing of attention, the Angkor Memory Package includes a stylist and film crew that will follow you around for four days to document your experience.

Just in case anyone forgets that the world is, in fact, yours.