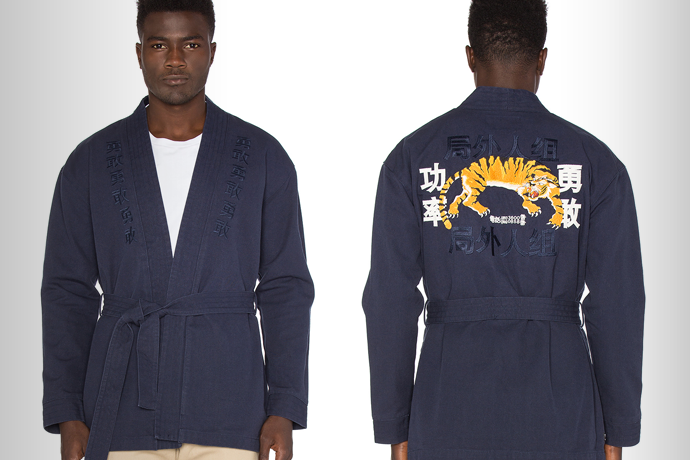 In lieu of taking advantage of the goods in this most bountiful see-now-buy-now era, I spent the past few days redoubling my efforts to find and secure an older item I've had my eye on for awhile: the perfect noragi shirt.
What follows, then, is a tale of consumer-driven woe and desire, recounting my oft-quixotic quest to purchase this elusive (and often expensive) article of Japanese workwear, for a sum of money I can fess up to having spent on an article of Japanese workwear without feeling guilty about not donating said sum to the ACLU instead.
Chapter 1: Just an Entire Chapter Devoted to How Cool I Think John Mayer Is
Sometime in the distant future, our more evolved species and/or primitive band of cannibalistic xenophobes will reflect on this current epoch and claim, with 100% certainty, that John Mayer was the coolest man of his generation. Maybe not the most handsome, or the most talented (though his unbelievable guitar skills are, without question, unbelievable) or the most suitable person to date Taylor Swift, but certainly the most fucking coolest. Here's a guy of many interests, but who doesn't feel inclined to push them on us in any aggressive way; he's sort of like James Franco, if James Franco didn't make me sit through an unintelligible adaptation of that Faulkner novel I read in my high school English class, or pseudo-teach acting at UCLA.
Ergo: when I saw
this article on GQ
, endorsing a "next-level layering move," I wasn't surprised to find John Mayer so prominently figured. Of course, John Mayer's been rocking the noragi shirt—aka, kimono-like Japanese robe/shirt—for years now. Of course, he looks cool as shit doing it. Of course, nobody can be like, "Yo, what the fuck are you wearing, John Mayer?" because nobody has ever said that to John Mayer. Ever.
I'm not saying John Mayer made the noragi shirt cool for everyone. But he made it cool for me. That, and the fact that the noragi shirt is, like, Cardigan 2.0, and I love me some cardigans. Always have, always will.
Chapter 2: The Second Most Traumatic Thing to Ever Happen to Me at Urban Outfitters*
In an alternative universe, this story would've ended here. I would've clicked on the link for the very affordable Urban Outfitters denim noragi shirt at the bottom of the
GQ
article. I would've purchased it and had it delivered to Colombia, because I'm in Colombia. I would've received it, a few weeks later, and worn it on a chilly night out over a t-shirt, to the admiring glances of friends and strangers alike. I would've been, if only marginally, if only for a moment, John Mayer-esque.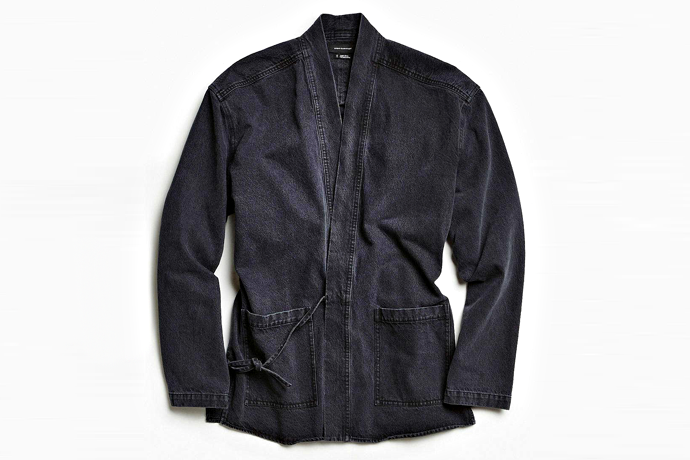 But that didn't happen. Said noragi shirt was sold out. And it has been ever since. Therefore, the quest continued.
*The first involved a dressing room, a flirty dressing room attendant, a mirror and a few unisex shirts that were not, in fact, unisex.
Chapter 3: A Brief Yet Significant Internal Dilemma Over Whether or Not a Noragi Shirt Might Look a Little Bit Too Much Like My Old Karate Gi
This is a picture of someone wearing a gi.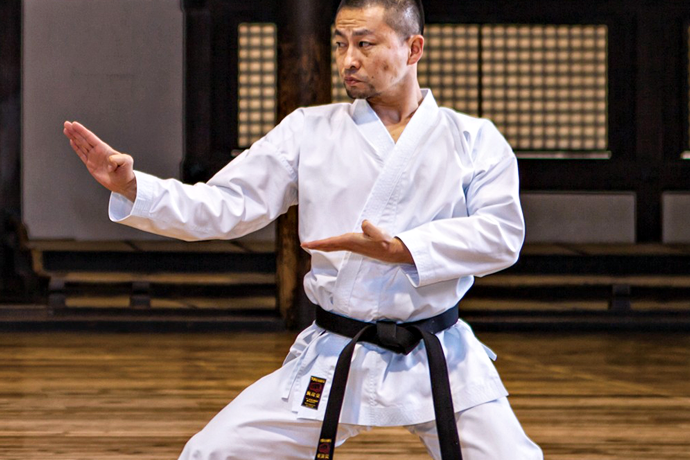 I used to wear one during karate lessons, when I was a kid [
fights strong urge to call himself a "Karate Kid"
]. Through some extensive-ish research, I realized that some noragi shirts (see below) look a little too gi-like.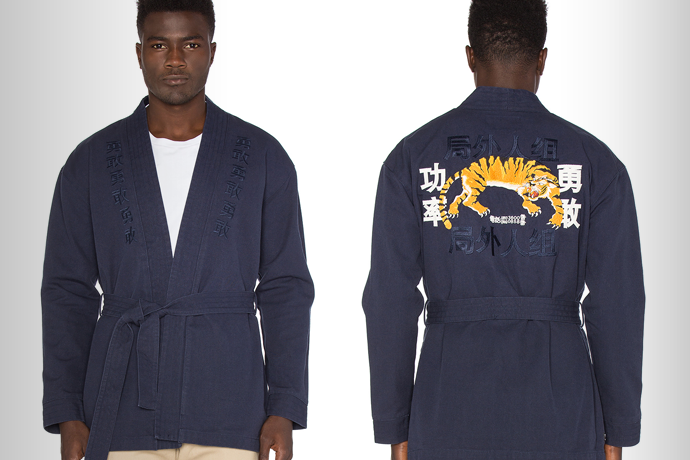 Did I want an article of clothing that served the same purpose as a cardigan, but was also somewhat of a statement piece in its own right? Yes. Did I want an article of clothing that served the same purpose as a cardigan, but also gave people the impression that I might, at any moment, break into an amateurish
3 Ninjas
reenactment outside the bar? No. And have you seen
3 Ninjas?
Great movie.
Chapter 4: A Few Failed Google Searches and Several Unfounded Conspiracy Theories
I knew what I wanted: something akin to that wonderful Urban Outfitters denim number, a noragi that was more cardigan than kimono. Try Google searching "noragi shirts buy online," however, and see what you find. There's... not much. Sure, the folks at Visvim may have a few, but they'll cost you upwards of 500 bucks. The three others featured in the
GQ
article are currently sold out. Also sold out: this very handsome Visvim
cotton chambray noragi
from Union LA, this equally handsome Visvim
heather gray noragi
from End Clothing, this affordable
indigo-dyed noragi
from Betabrand and a particular iteration from
Stampd
sought after by another frustrated UD editor.
Who or what can account for this obvious noragi shortage? Here are a few conspiracy theories, from most to least likely.
—John Mayer wants all the noragis for himself.
—In an underreported executive order, President Trump has imposed an absurd tariff on all noragi shirts, as reparations for "all the money we spent housing Japanese immigrants during World War II."
—The demand for noragi shirts simply exceeds the supply.
Chapter 5: The Leftovers
So, what's left?
Well, there's this
black, water-repellent noragi jacket
from ANNMS, but it has too many weird-looking pockets. There's this
hemp option
from INF, but I'm not sure how much I like the fit (or trust the retailer selling it). And then there's the one pictured below, from
Shuren Projects
. I like it. Sharp, elegant, tailored, affordable—it could very well be the noragi I've been looking for.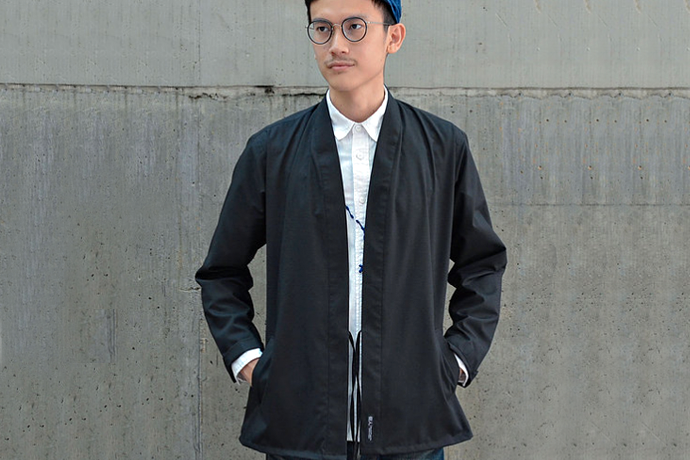 Chapter 6: The Decision
I began this mission with a single goal: to find the perfect noragi shirt. Not the noragi shirt that "could very well be" the one I've been looking for. Therefore, I will remain noragi-less, at least until Urban Outfitters gets theirs back in stock. To quote an old Japanese proverb: "Not seeing is a flower."
Somehow, someway, I think that maybe applies.