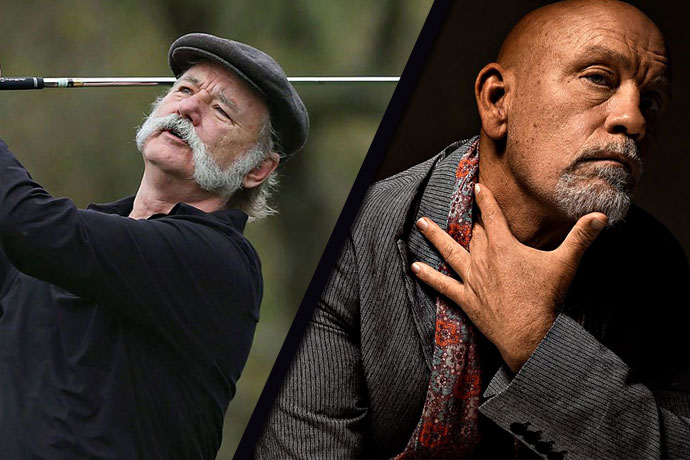 We may already have our first emerging fashion trend of 2017: screen actors getting into the menswear-designing game.
Just last week, thespian-flaneur John Malkovich
dropped surprise collections of menswear for fall/winter '16 and spring/summer '17
. Which follows another surprise collection drop,
a golf-inspired one by lovable-old-rascal-and-also-actor Bill Murray
, late last year.
Both actors-turned-clothiers played to their strengths—Murray is an avid golfer, while we can only assume that John Malkovich is an avid scarf and culottes wearer—but whose line would you rather wear? Does either pass muster? We break it down, in a tale of the tape, right now. Annnnd...
action
:
The Aesthetic
John Malkovich:
What being John Malkovich would actually look like. There are scarves printed with his original art, culotte-y shorts, extravagant coats and sweaters with squared collars. No V-necks, no crewnecks, just square-necks.
William Murray Golf:
A typical weekend palling around with Bill Murray in South Carolina. Polo shirts, shorts, tees, some quirky patterns thrown into the mix for good measure.
Edge:
As far as design aesthetics go, the Malkovich angle gives you more creative liberties, plus the option to wear a coat, which is nice. We'll give Malko the edge here.
The Webshop
John Malkovich:
Very serious. Real models. Real light-box-y photos. Clothes are organized by fashion calendar collection and each page has this blurb posted under the sizing notes: "All John Malkovich products are based on French sizing." So get with the fucking program, everyone. This is not a drill.
William Murray Golf:
Less high-fashion and more catalog as far as the product shots, but the site is actually better-looking than you might expect. But to buy the products, you're directed to their webshop hosting page, the Chivery. We repeat: the Chivery. Your guess as to what that means is as good as ours.
Edge:
Malkovich.
Number of Items You Could Wear Golfing
John Malkovich:
Um, maybe, the... shorts?
William Murray Golf:
All of it.
Edge:
Murray. We had to throw him a bone here.
Number of Items You Could Wear While Not Golfing
John Malkovich:
All of it—that is, if you'd ever wear a jacket styled after, and named for, deposed African dictator General Mobutu.
William Murray Golf:
Maybe half of it. You could get away with most of it anywhere that's got Jimmy Buffett on the jukebox.
Edge:
Push—depending on whether you're wandering the streets of Le Marais or Margaritaville.
Number of Button-Up Shirts on Offer
John Malkovich:
Eight.
William Murray Golf:
One. Exactly one.
Edge:
Malkovich wins the numbers game.
Who You'd Rather Have a Beer With
John Malkovich:
You'd think this would be a slam dunk for Murray, because the assumption is you'd be having some real esoteric conversations with Malko, but the guy seems pretty down-to-earth,
and really into basketball
, which would get him far in most any sports bar hangout.
William Murray Golf:
There's no way you're not having an epic story after hanging with Bill. The man makes
a long cab ride the stuff of legend
.
Edge:
Murray. It's always Murray.
In Conclusion
John Malkovich's
three wins to
William Murray Golf's
two wins, and one tie shared between them, means John Malkovich takes the title here. But that still doesn't mean you'll end up wearing any of this stuff anyway.