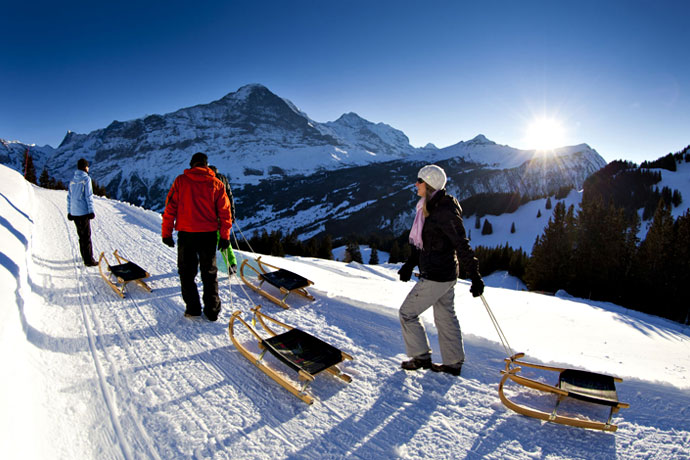 Even amid the gloom of January's long nights and bitter cold, there is some solace.
It involves hurtling yourself down the side of a hill.
Preferably with a giant inner tube fastened securely underneath you.
We speak, naturally, of sledding.
Why? Well, it releases your inner kid, your adventurous streak, your long-suppressed desire to live out some sort of Warren Miller fantasy... or at least a Mountain Dew commercial fantasy.
Or maybe it's just so damn fun. Yeah, that. So herewith are some of the best places in the world to do just that.
Where:
Bussalp
, Grindelwald, Switzerland (pictured above).
Why:
Because if you've made it this deep into Switzerland, you're going to go all the way. Which means you'll hop aboard the Grindelwald Bus, which will take you to a 6,000-foot hill—okay, let's just call it a mountain—that you'll soon be riding like it's a stallion. Plus, you'll probably fondue yourself silly when it's all over, which is pretty nice.
Where:
Lake Placid Toboggan Chute
, Mirror Lake, Lake Placid, NY.
Why:
Because you remember the 1980s Miracle on Ice and want to experience something of that glory—without all that hockey. So you'll make your way to Lake Placid's Mirror Lake (starting late January, weather permitting), strap yourself in and jettison yourself down a 30-foot-high, ice-covered ski trestle over an icy lake. Though you can pretend it's a hockey rink.
Where:
Wildkogel Arena
, Neukirchen and Bramberg, Austria.
Why:
Well, you're in the Austrian Alps, and nearly 6,900 feet above sea level, so it would be a real shame if you didn't ride a toboggan down the world's longest nighttime run. It's the number one deathbed regret.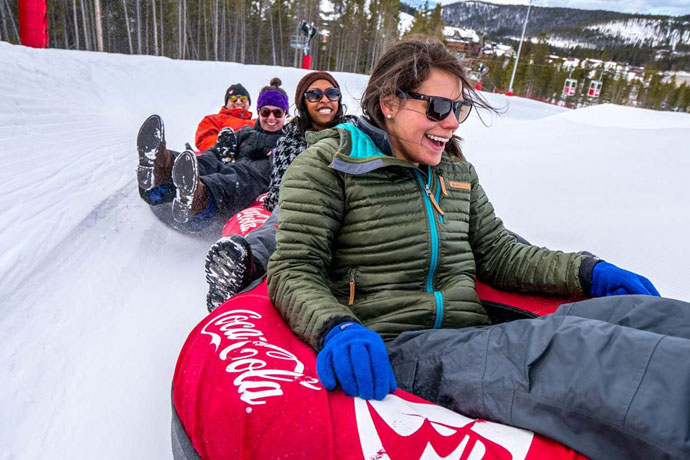 Where:
Historic Fraser Tubing Hill,
Fraser, CO, and
Coca-Cola Tube Park
, Winter Park, CO (above).
Why:
Because you're heading to Colorado's famous Winter Park Ski Resort for a frolicking weekend of ski adventures—but also sledding such as what you'll find in the resort's Coca-Cola Tube Park. But if you want to do what the locals do, head to this local tubing mecca in nearby Fraser, where you can just show up, rent a tube, link arms with a group and let yourself go. Great way to make friends.
Where:
Sunburst Ski Area
, Kewaskum, WI.
Why:
You want an easy day on the slopes. You head to this spot, about two hours north of Chicago. You'll find moderate slopes, with a Magic Carpet lift up the mountain (think of a human conveyor belt). Basically, it takes an easy recreation and makes it easier.
Where:
Essex Street Recreation Area
, Essex Street (aka Suicide Hill), Bangor, ME.
Why:
Mainers consider this place, unofficially known as Suicide Hill because of its steep incline, to be one of the best places to sled in their state. It's like their little secret. So in other words, try to blend in and get a sled with in-state license plates.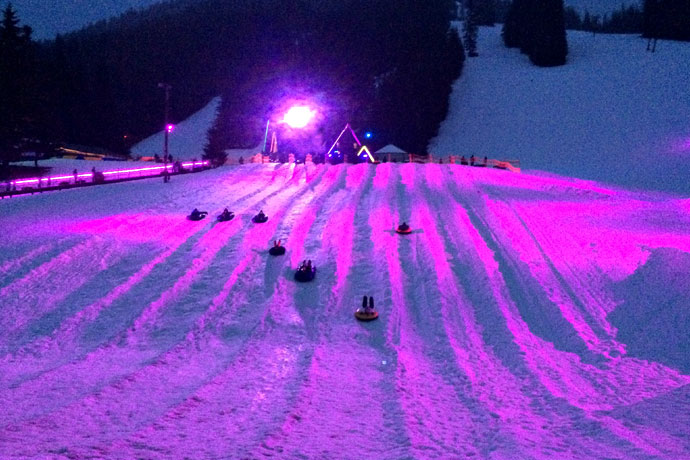 Where:
Camelback Mountain
, Poconos, PA (above).
Why:
Because it represents a brave new world of sledding. Camelback, not satisfied with its gigantic spread of 42 tubing runs, has now introduced an LED light show to enhance your nighttime sledding. Basically, it will look like a rave with inner tubes.
Where:
Firecracker Hill
, Telluride, CO.
Why:
You're visiting Telluride, Colorado, and you think to yourself, "Hey, wouldn't it be cool to find a hill in the center of this historic little Western town, rent a sled and just see what happens?" If you answer yes, head to Firecracker Hill and have at it.