Even amid the winter gloom and bitter cold, there is some solace.
It involves hurtling yourself down a hill.
Preferably with a giant inner tube or sleek toboggan fastened securely underneath you.
We speak, naturally, of sledding.
This time-honored tradition releases your inner kid, your adventurous streak, your long-suppressed desire to live out some sort of Warren Miller fantasy... or at least a Mountain Dew commercial fantasy. And, in a pinch, it's not a bad mode of transportation when your town is blanketed in snow and you need to get across it.
Also, it's damn fun. So here are 11 of the best places in the world to go sledding.
Where: Bussalp (Grindelwald, Switzerland)
Why: If you've made it this deep into Switzerland, you'd hate to pass up this opportunity. So hop aboard the Grindelwald Bus, which will take you to a 6,000-foot hill—OK, let's just call it a mountain—that you'll soon be hurtling down. What a way to earn that après-ski fondue.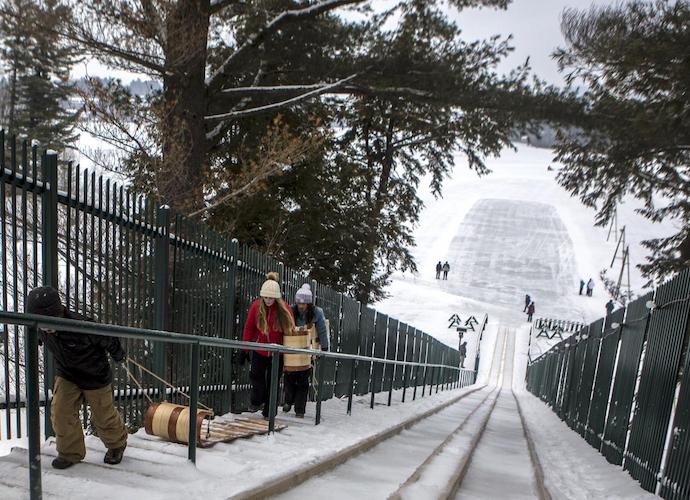 Where: Lake Placid Toboggan Chute (Mirror Lake, Lake Placid, NY)
Why: Channel the 1980s Miracle on Ice, but without all that exhausting hockey, by making your way to Lake Placid's Mirror Lake for some sledding. Strap in and jettison yourself down a 30-foot-high, ice-covered ski trestle over an icy lake.
Where: Wildkogel Arena (Neukirchen and Bramberg, Austria)
Why: You're in the Austrian Alps, and nearly 6,900 feet above sea level, so it would be a real shame if you didn't ride a toboggan down the world's longest floodlit nighttime run. It's the number one deathbed regret.
Where: Coca-Cola Tube Park (Winter Park, CO)
Why: If you're heading to Colorado's Winter Park Ski Resort for a frolicking weekend of ski adventures, don't miss the Coca-Cola Tube Park. It's a fun way to kill a few hours off your skis or snowboard, and with four lanes, you can race a stranger whether or not they know you're racing. Great way to make friends.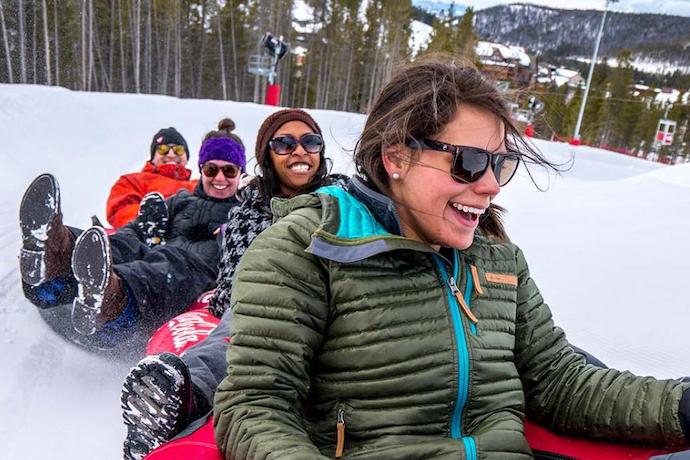 Where: Sunburst Winter Sports Park (Kewaskum, WI)
Why: For an easy day on the slopes, head to this spot, which is located about two hours north of Chicago. You'll find moderate hills and a Magic Carpet lift up the mountain (it's like a human conveyor belt). Basically, it takes an easy recreation and makes it easier.
Where: Servus Tube Park at WinSport (Calgary, Alberta, Canada)
Why: The WinSport complex sits at the former site of the 1988 Calgary Olympics, and today it hosts a variety of summer and winter sports and activities. That includes the Servus Tube Park. A magic carpet brings you uphill, where you'll find eight lanes of sledding tracks. Collect them all.
Where: Ski Dubai (Dubai, UAE)
Why: Seasons don't matter at Ski Dubai. It's always snowy, with options to ski, board, sled or zip line. Grab a tube and head down the tubing track, or try Mountain Thriller, which whisks you down the mountain in a bobsled.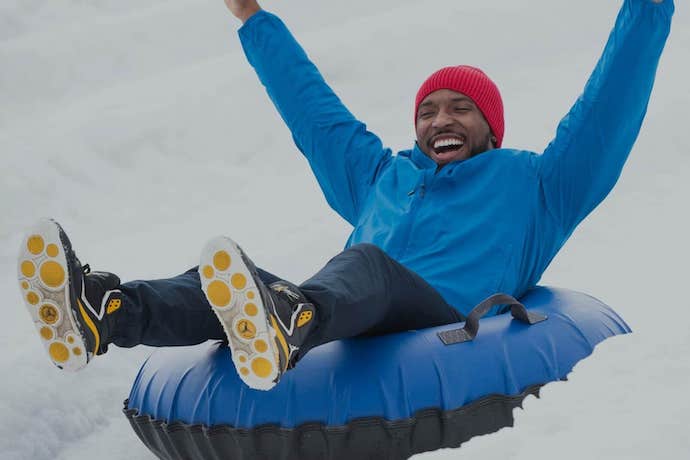 Where: Camelback Resort (Tannersville, PA)
Why: For starters, look how much fun the guy above is having. That could be you. And Camelback, not satisfied with its gigantic spread of 42 tubing runs in the Poconos, installed an LED light show to enhance your nighttime sliding. Just imagine a cold rave with inner tubes.
Where: Firecracker Hill (Telluride, CO)
Why: There's plenty to do in Telluride during the winter. But if helicopter skiing and ice fishing aren't your thing, then head for Firecracker Hill. Located in the center of this historic Western town, it's where you can rent a sled, point yourself downhill and see what happens.
Where: Volcán Villarrica (Villarrica National Park, Chile)
Why: For everyone who's been thinking, "Sure, but when can we sled down a volcano?", this is for you. Hike (or take a chairlift) to the top of this active volcano, then slide down on a round piece of plastic that emulates a simple childhood sled. It's an exhilarating way to end your adventure, and it doesn't require more exercise.
Where: Essex Street Hill (Bangor, ME)
Why: Mainers consider this place, unofficially known as Suicide Hill because of its steep incline, to be one of the best places to sled in their state. It's like their little secret. So, in other words, try to blend in and get a sled with in-state license plates.