Sin City
is forever on the march, with new
debaucheries
opening all the time. Even if the red-eye drops you in the
office
every Monday morning, chances are you haven't seen everything Las Vegas has to offer. Below, a few new developments for your roster...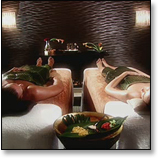 Caesar's Palace will bring Vegas's bacchanalia full-circle when it opens
Qua Spa
on Tuesday. This 55,000-square-foot den will feature a Men's Zone with head-to-toe massage treatments designed specifically for the male body. They'll also open the city's first Arctic Ice Room, where falling snow and bracing 55-degree air clear your lungs and tighten your pores (and, unfortunately, shrink other parts). At the center of it all is a Roman-style bath with water massages. Deluxe suites are available for couples—togas optional.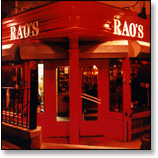 When it's time to feast, march over to
Rao's
Caesar's Palace. Opening December 11, the legendary Pellegrino family will serve simple, delicious Italian meat, seafood and pasta dishes worthy of the original
Rao's in Harlem
, which opened in 1896. At 10,000 square feet, the new space is a bit larger than the original 10-table joint, but Frankie Pellegrino, Sr. tells us the friendly atmosphere will be familiar to his NYC regulars. In between courses, you can even play with your balls—bocce balls, that is—in Rao's outdoor court.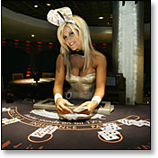 End with a night of revelry in the recently christened
Playboy Tower
at the Palms Hotel. With bunnies in spankin' new outfits, this ain't your father's Playboy club (though thankfully the ears and puffy white tails remain). The space boasts two gambling pits, zebra-hide armchairs and snakeskin couches...and maybe when Hef finally kicks it, they'll replace the portrait above the fireplace with his stuffed head. Conquer your date in a Playpen Suite ($2,500/night), or take your crew to the Hugh Hefner Sky Villa ($40,000)—complete with a private infinitiy pool, round rotating bed and suspended outdoor Jacuzzi overlooking the Strip. If you tire of the bunnies, take the escalator up to the new steel and glass Moon Nightclub, with its space theme and massive retractable roof.
That's a whole lot of sinning for just one weekend, but we've got a feeling you're up to the challenge.