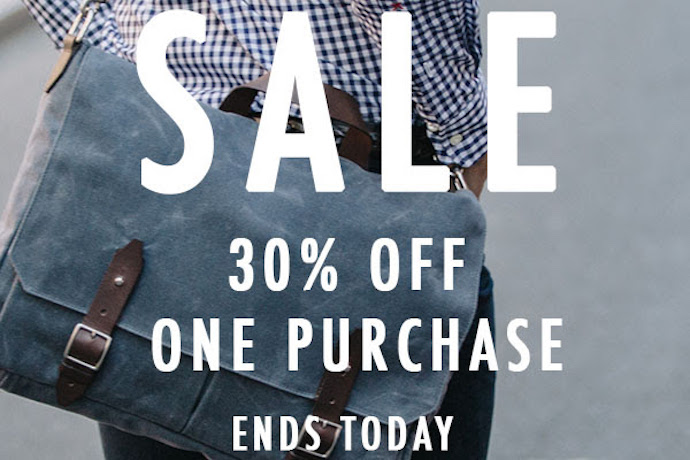 As we're sure your inundated inbox has made you painfully aware: we're currently in the thick of end-of-summer sale season.
And even the webshops that seem to be perpetually on sale are going even deeper—but don't let that trick you into a false sense of urgency. One day they're slashing prices by 30%. The next, they're going down to 40%. And then there's the coup de grâce sales-upon-sales promising an additional percentage off already discounted items with the checkout code
BUYTHISBEFOREWELITERALLYTHROWITINTHETRASH
.
So we've put together this handy stock-market-like prospectus for what to buy, hold off on or skip during this sale season...
The Sale:
J.Crew
.
The Goods:
Sweaters, chinos, shirts, suits, everything, seriously, everything, all the time.
The Play:
Skip—unless you see a dirt-cheap basic you need upgraded or until you get an additional high percentage off sale items (just check your inbox now). They've overexposed themselves on the market.
The Sale:
Billy Reid
.
The Goods:
Polos, sport coats, shoes.
The Play:
Buy—especially if you're planning on investing in a sport coat or shoes (that you can try on in-store, preferably). A few of the polos might be worth snatching up, too. This is a blue chip.
The Sale:
Todd Snyder
.
The Goods:
Button-downs, jackets and sweats from his ongoing collaboration with Champion.
The Play:
Hold off—until you get an additional discount code (you just missed one for an additional 30% off), and then go after some sweet, sweet sweats. Solid ROI there.
The Sale:
East Dane
.
The Goods:
Jackets, sneakers, backpacks, a whole lot of stuff.
The Play:
Hold off—this sale is hovering at only around 30% off and will go deeper. Set your order limit at sub-40% at least.
The Sale:
Need Supply
.
The Goods:
Tees, bucket hats, cool jackets.
The Play:
Buy—they're currently running an additional 30% off their sale items and stuff is starting to sell out. If you're the right size, there are some low-volume, high-yield opportunities here.
The Sale:
Ernest Alexander
.
The Goods:
Leather bags, pocket squares, ties.
The Play:
Buy—if you're looking for a leather bag half-off or a tie. This is a niche market.
The Sale:
Gant
.
The Goods:
Blazers, chinos, sweaters—all a mix of Gant mainline and Rugger.
The Play:
Hold off—the deals don't seem good enough just yet, but they're claiming to be going as low as 50% right now. Play the margin here.