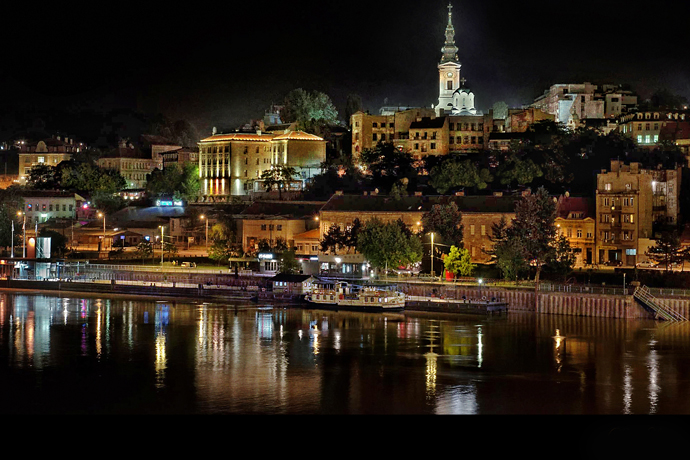 One writer. Twelve international cities. A whole year's worth of fatuous sartorial-related observation.

We're calling it: Wear and Terre.

Next up, our man on the ground heads to Belgrade.
General Notes
I lived in Belgrade for a month, but the most revealing moments about its culture—as it relates to grand-sweeping generalizations extrapolated from style—came over a weekend I spent in Aix-en-Provence, a bougie university town in the South of France, near Marseilles.
I'd returned there to relive the glory days of my semester abroad, and picked up more or less where I left off then—drinking pastis, dancing poorly, hanging around at outdoor bars and cafés for way too long (under the pretense of quote-unquote "writing"), content to watch droves of beautiful people walk by in their summertime clothes. But how different it looked now, coming from Serbia instead of America. The quaint, provincial buildings, the small shops and local boulangeries, the smell of fresh-baked bread (actually a thing, not a cliché), the postcard-ready streets, the promiscuous displays of wealth, the seamless blue of the sea—so easy was Aix's beauty that it threw into stark relief the hard-earned grit and dynamism of Belgrade, a city alive with recovery (it's been burned to the ground 44 times over the course of history), tattooed with street art and ostensibly unashamed of any scars.
Like the city itself, the majority of Aixois carry themselves with an almost artificial nonchalance; their style and good looks come off as a natural consequence of being French. They are waifish, louche and delicately masculine, sporting well-fitting button-downs, cuffed jeans and T-shirts, tight and taut in all the right places.
In Belgrade, menswear, by and large, feels like an afterthought—a generic iteration of typical Euro style, if that. Attractiveness here seems predicated not by overall appearance, but almost exclusively on what many modern American men would consider an outdated notion of masculinity: bulk; mass; big muscles.* One might assume that, to a majority of men in Belgrade, it's effeminate to care too much about style, the way it seemed effeminate to me in seventh grade to wear anything nicer than blue jeans and a T-shirt.
By contrast, Serbian women are extremely stylish and hyper-feminine in a way French women are not, especially those of a certain (my apologies) cougar-esque age and disposition. While some appear as if they are perpetually en route to or just returning from a nightclub where waiters try to cajole you into bottle service, they are, if I may be so bold, uniquely beautiful, and Belgrade's the type of place where a romantic-ish twentysomething can fall into that momentary sort of from-afar love upward of five times a day.
*Consequentially, you tend to see a lot of Kevin James situations here, where hulking, out-of-shape dudes appear to be dating these very beautiful women. It's a little puzzling. But so is Kevin James. Just, like, in general.
Trends
—Old men drowning in oversize, airy short-sleeved button-downs that appear to have been purchased from one of Belgrade's many secondhand stores, some of which are actually called Second Hand. (Nothing against secondhand stores.)
—As in Prague: jean shorts. But also white cargo shorts and capris, of which I'm not a fan.
—Male purses—"murses"—is that still a word people use?—are big here. I don't know why, and it really runs counter to the whole outdated-notions-of-masculinity thing. What are they keeping in there? Why not use a backpack or briefcase? What's up with the showerhead in my bathroom that was installed way lower on the wall than it should've been, and so only manages to hit, like, everything from the shoulder blades down? These are just a few of life's unanswerable questions.
—Converse sneakers, on guys and girls.
—Classic Adidas Superstars. A trend
I've already extolled
at some length.
—Solid-colored, off-brand polos. Which may or may not qualify as a "trend."
Shouts
Potentially German (but possibly Serbian) man boarding a plane to Marseilles, rocking a fresh pair of Adidas Superstars and a fedora; rakish Japanese dude waiting to cross the street at a major intersection, wearing denim-on-denim to great effect, and to hell with the fact that it's 90 degrees; the acoustic guitarist in a trio covering classic Americana at Vox Blues Bar—a storied dive that looks like a place out of the bayou—who had a questionable ponytail he made work for him and a sweet pair of black suede boots; tan, bearded businessperson in a smart, well-fitting navy polo and salmon pants; the gelateria on one of my favorite streets in Belgrade near the design district (an alley, really) that appeared to have come straight out of 1920s Shanghai—you're not a person, but you're still cool; all the terminally unfazed old men drinking rakija, chain-smoking cigarettes and minding their own business—you guys keep doing you.
You can read the first part of this series here.