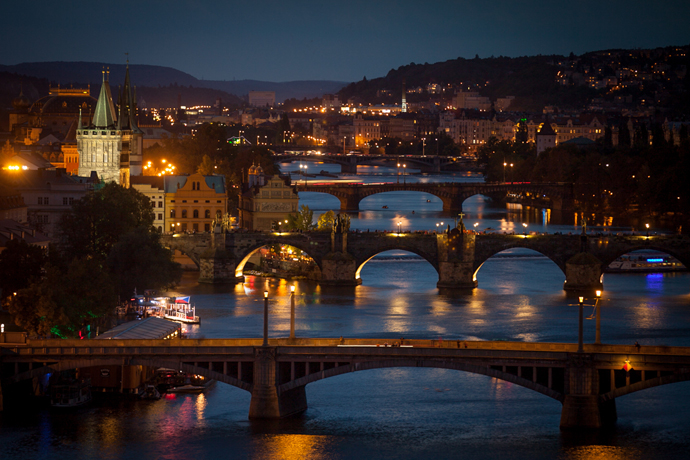 One writer. Twelve international cities. A whole year's worth of fatuous sartorial-related observation.

We're calling it: Wear and Tear.

First up, our man on the ground heads to Prague...
General Notes
In Prague, it feels like every other restaurant or bar you walk into has a soundtrack made up exclusively of top 100 hits circa 1991-2004. You'll be enjoying your goulash or chatting over a beer, minding your business, when out of nowhere your long-dormant radar for the familiar hooks of late-'90s pop whizzes awake at the sound of the Backstreet Boys or Lou Bega's tragically forgotten "Mambo No. 5." You start nodding your head. You turn to your friends and look at them as if to say, "This? Really?
This?
" And then you realize that you've heard that same song like three times already since you sat down. The whole thing's pretty strange. I've danced to "Macarena" more times in the past month than I have in the last 15 years combined, and I'm only 24.
Stranger still is the fact that oftentimes these hits are compiled on
Now That's What I Call Music
–like cover albums. They're performed in English, though presumably by Czech singers, whose attempts to occlude their native accents inflict an unnatural, melancholic strain. (Just last night, I heard an Austrian singer perform a ukulele cover of Edward Sharpe's "Home"; it was lovely, but somehow her impression of an American accent mutated into what can only be described as a doubly Canadian Alanis Morissette.)
Anyway, this is a long-winded way of saying that, to me, the breadth of men's style in Prague is almost exactly like these Czech cover songs: familiar, yet slightly off; facsimiles of ingrained American trends that, due to a post-Communism lag and/or my own preconceptions, have morphed into something else.
Trends
—The casual blazer-over-tailored-pants look, either with a polo or button-down shirt, often with a pair of oxfords, occasionally with a colorful pocket square. This seems to be the go-to young professional look, much like it is in the states.
—Muted tones. I've rarely observed loud colors on guys, like a bright pink or bold red. Earth tones are prominent, as are navies and burgundies. One assumes this is a by-product of Soviet stoicism and order. Or just an aesthetic preference for muted tones.
—Unstructured blazers. Particularly on older men. They look great.
—Tight jean shorts, of the sort Brooklyn bike messengers wear. Only here, the look often feels incomplete, less defined, a little schlockier.
—Polos with stitched lettering on the back. I've seen these a few times at various nightclubs or bars, on young boxy men who look like they could punch a hole through a brick wall with one hand while nonchalantly tossing back a pilsner with the other.
Shouts
Shouts to the fiftysomething dude on the river in that canary-yellow sweater, paddling a canoe like something out of a movie where he would inevitably get the girl; shouts to the mustachioed man, sipping his espresso outside the café by my apartment, in a striped polo, a Burberry-esque khaki jacket and burnished tan oxfords; shouts to the old cowboy on the stairs to the Prague Castle, wearing all black leather and performing "Space Oddity" on acoustic guitar—there is something inexplicably poignant about someone singing about space en route to a structure dating back to the ninth century; and last but not least, shouts to the throngs of bored middle schoolers circling St. Vitus Cathedral—you're living proof that middle schoolers could give two fucks about historic religious sites, regardless of their nationality.