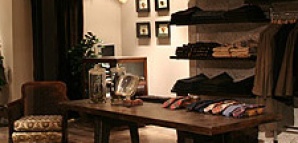 The British are coming.
And they're coming in style.
Insider favorite British menswear designer
Oliver Spencer
has finally set up his first shop—and he's chosen the Greenwich (Village) on this side of the pond.
The peculiarly small, triangular space (opened in collaboration with the
Odin
gents) is tucked right across from the Spotted Pig—and is what Oliver calls a "modern Victorian gentleman's outfitter" (it's about damn time we had one of those). Towering trees, Malaysian beetles and steel workshop furniture give a 'Victorian library' vibe as you browse his wares. Oliver's sleek, well-tailored clothes aren't gimmicky, but he has a quaint old-world taste for great details like retro Scottish knits, paisley silk linings and even polka-dotted pockets (they may not be visible, but God knows they're there). The place is littered with beauties like sleek wool overcoats, one-button velvet blazers and slim worker trousers.
And although you've heard it before, you really can't go too wrong dressing yourself here. This is the kind of designer who can dress The Rolling Stones (he outfitted them for their latest world tour), and then whip up some flawless smoking jackets.
Proving that Oliver can design for pretty much anyone, including Paul Revere...and the horse he rode in on.