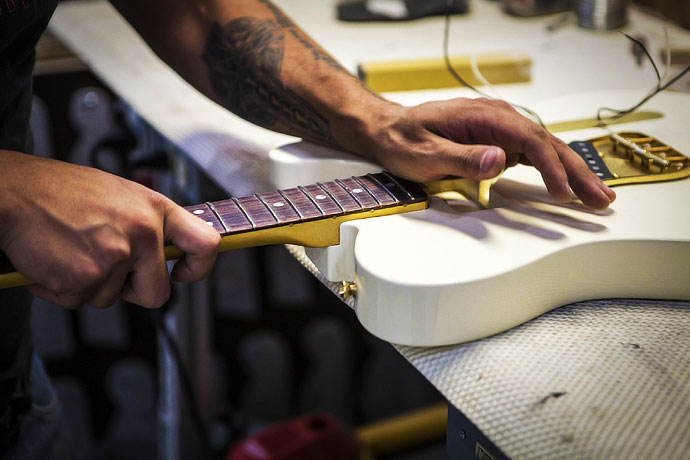 You know that good version of hell you hear about sometimes?

Where all the really interesting people go. The ones who lived fast, died young and left a beautiful fucking corpse, and all that.

It's composed mainly of people who played Fender Strats.

Which segues nicely into the Fender Mod Shop, the online way for you to create a completely custom model of your own from the vanguard of electric guitar and bass makers.

Right now you've got four models to tinker with—the Stratocaster (played by Jimi Hendrix, Stevie Ray Vaughan... everyone), the Telecaster (Muddy Waters, the Boss, etc.), the Precision Bass (Dee Dee Ramone, John Paul Jones, etc.) and the Jazz Bass (Jaco Pastorius, Geddy Lee, etc.). So right away, you're in good company.

If you need a little inspiration, they're keeping a list of ones already built by people such as yourself just below the model options.

But we think you can manage on your own.

So on to the custom parts. There are more than we'll name here, but among your options are body color (obviously), fretboard woods, tuning pegs, pickups and bridge type. You'll see what everything looks like on a model as you make changes.

Once you've built the Vintage Blonde, maple-fretboarded, HSS-pickupped, four-ply-pearl-pickguarded beauty of your dreams, they will build it, and it will come.

Yes, it will most definitely come.