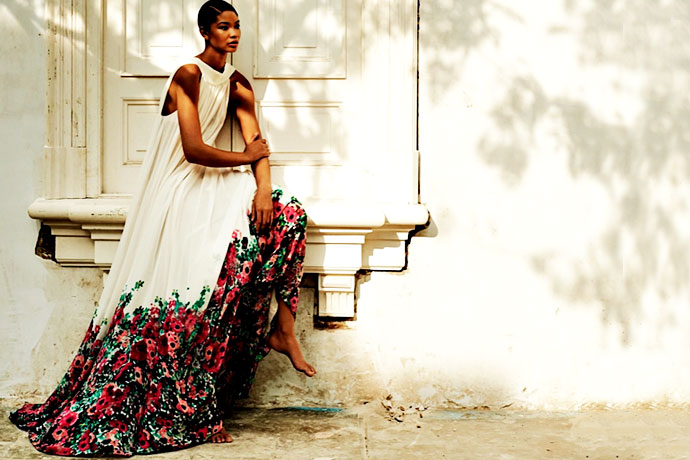 Now that we're in that golden time of year when every day feels like Sundress Day, here's a look back at our loving appreciation from this year's season debut.

Gentlemen, ladies—it's Sundress Day. That singular moment when the women of New York City (UrbanDaddy's home base) form a hive mind that signals a clarion call to all that, yes, it's warm enough, we can't wait anymore, and we're breaking out the sundresses.

You never know when it's going to happen. There are false starts and bad weather forecasts. I thought it might go down a couple weeks ago, when we first broke into the 70s. It didn't. The jet stream brought excessive early-afternoon winds that rendered any thoughts of sundress wearing impossible. The dress could be blown upward or the chilled air could require a jean jacket or some other kind of coverage, and that throws the whole thing off. It has to be perfect. There can be no compromise. It's sundresses all day or bust. This is a volatile, floating holiday.

But that's part of what makes it so wonderful. The element of surprise and the realization of it. You wipe your eyes in the morning, you shower, you have some grapefruit juice and a bowl of Cinnamon Toast Crunch. You head to work. And somewhere between your place and the workplace, you see one. Then another. Then you widen the scope of your hopeful gaze, and realize they're everywhere. It's today! Yes, things are looking up.

You can see the coming rooftop afternoons and beach trips and outdoor brunches. Sundress Day symbolizes those things. It makes everyone happy. There are springs in steps. There are smiles and sun on faces. The parks and squares and streets are abuzz with positive energy. I literally just saw a group of three women, all in sundresses, being showered with cherry blossoms as they passed beneath a tree. It was magic.

So we just wanted to take a moment to acknowledge America's greatest unofficial holiday and to encourage you to take an extra-long alfresco lunch in celebration.

Enjoy.*


*This article originally ran on Kempt on April 29, 2015—the first recognized Sundress Day.