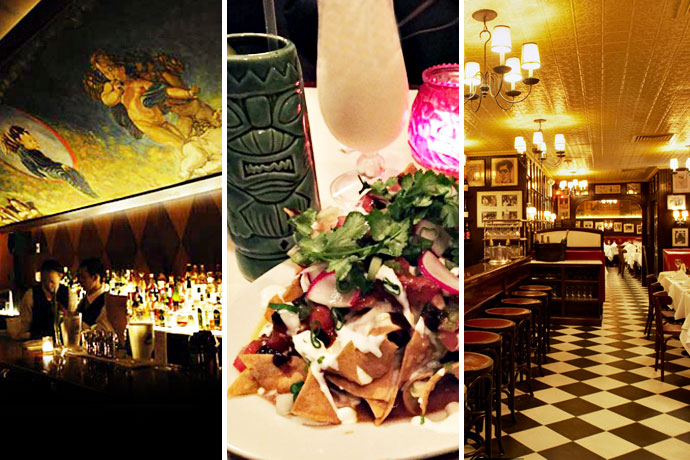 You've doubtless noticed that you're not on a rooftop or a patio right now, enjoying the mild pleasantness of the period they call spring.
We're really sorry about that. We don't like reading the words "polar vortex" in April any more than you do. It was out of our control.
Nevertheless, we'd like to bestow some guidance in the form of Cold April Refuges, the fail-safe spots where you'll find us in retreat when the supposedly warm months deal you some of this bullshit.
Some of us choose the "embrace it" path, some deny with mai tais, others focus on the beer tower of it all.
The power of knowledge is just below...
Minetta Tavern.
"When escape-dining, I look for a place that checks off some specific boxes. The lighting has to be very warm to barely there. There needs to be a bare minimum of exposure to what's happening in the outside world. It needs to have heavy, morale-boosting food, and it needs to have a wall full of brown liquor. If it's located off of a real-life lane, all the better. So grabbing a burger or a French dip at the furthest-back table I can get at Minetta will always be my default move in these situations." —Geoff Rynex
Freemans.
"There's something about holing up in a dark, moody place that employs gratuitous taxidermy and the occasional rogue fireplace that's just so damn satisfying on a cold day. And if it's got like 7,834 bourbons, all the better. For me, that place is Freemans. I've found myself ordering Hunter's Stew there just so I could hear what I sound like ordering Hunter's Stew. Anyway, it's nice and almost makes me grateful for this Winter's Last Stand thing we've got going on right now. Almost." —Kelly Larson
Angel's Share.
"A wise former UD editor once foretold of a time when a window seat at Angel's Share, the legendary East Village hideout inside Village Yokocho, would be the perfect place to ride out serene, incongruous cold weather. That time is now. I'll have the Smoke Gets in Your Eyes, please, which arrives turbid with actual smoke. And bourbon." —Lonny Pugh
El Cortez.
"This cold snap has me truly torn. On the one hand, it's technically spring, so I'm ready for fruity drinks and warm-weather whimsy. On the other, it's goddamn freezing, and I want to console myself with deep-fried burritos and rivers of melty cheese. And on occasions such as these, I know that El Cortez will be there for me. I'll be tucked away in the booth in front of the palm tree mural, knocking back mai tais and pretending I'm in the tropics. But I'll also be engaging in my favorite cold-weather activity: consuming my weight in nachos and ground-beef chimichangas. Not a bad compromise, all things considered." —Taylor Tobin
Turntable 5060.
"If I decide to venture out to a bar or restaurant in the cold, I aim to be there for a while. No bar hopping for me. I want a place where I can lounge the whole evening without feeling pressured to give up my table. Turntable 5060 meets that requirement. It's an East Village spot with brick walls, satisfyingly greasy Korean food and beer towers. There's nothing like spending a snowy evening inside a warm, dark restaurant, ordering plate upon plate of steaming kimchi pancakes and working your way through a giant, dry-ice-topped cylinder of beer." —Leah Butterfield
Blueprint.
"Ah, these New York City Aprils. One day it's 70 and I'm looking for a backyard bar where I can post up for happy hour with a book and a spicy tequila drink (just me?); the next it's 35 and I want nothing more than to be hiding out in a dimly lit local spot with good company and a strong whiskey cocktail. Enter: Blueprint, a Park Slope cocktail bar that has both bases covered. And it's never not brussels-sprouts-and-bacon-topped-pizza weather. It's just not." —Ilana Dadras