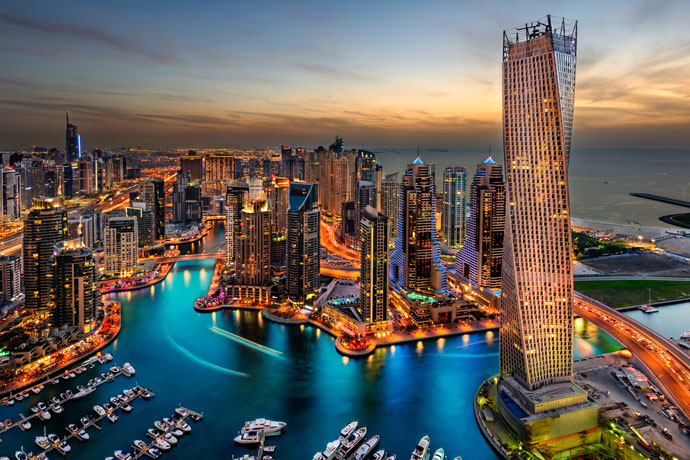 At some point in your life, you're going to have a layover in Dubai. Yes, it will happen.
And it will be a little too long to just sit around the airport, but a little too short to really, truly explore the city. So what will you do?
Well, two UrbanDaddy editors recently each had a layover experience. They're here to help you make the most of it. Here's how each one spent their allotted time.
Sam Eichner
Time to Kill in Dubai: 24 Hours
Jan 3, 8:30am:
I disembark from the plane from Johannesburg after eight hours. It's overcast and rainy—isn't this supposed to be the desert? We might as well be in Seattle.
9am:
I take out 500 dirham from the ATM, then make a mental note to look up what a dirham is as soon as I get to the hotel. Turns out, I have about $175 US.
10am:
My cabdriver's from Bangladesh, but English is a common-enough lingua franca here. I ask him about Uber, and he starts rambling for the rest of the trip, while I look blithely out the window. This is a well-worn tactic I use in order to avoid having to converse with cabdrivers.
10:30am:
I arrive at the Country Club Hotel. It's not a country club. Tacky Christmas decorations hang limply from the walls—paper Santas, red and green streamers, a few stray ornaments—and it offers several lounges, including an Indian nightclub called the Indian Nightclub.
11am:
I drop my bags in my room, shower, try to nap, find I can't nap because I'm hungry and promptly exit the hotel in search of sustenance.
11:45am:
I'm not in downtown Dubai (where the skyscrapers are), but rather Bur Dubai, which is not as developed. Yet every building I pass seems to be a mall of some sort, which makes finding a good place to eat difficult.
11:50am:
I settle on a vegetarian Indian restaurant. The waiter points to something. It turns out to be delicious—a savory Indian crepe-like pancake with a vegetable stuffing.
12pm:
I ask where the bathroom is, and the waiter gestures out the door to the left. To my surprise, I realize I'm actually
in
a mall. This will not be the only time this happens.
1pm:
I hail a cab and request a ride to the Deira Fish Market, a bustling waterside market I had read about in a travel guide. I'm ready for a very Anthony Bourdain–esque adventure.
1:30pm:
The fish market is closed for cleaning. I'm cajoled by a lonely shopkeep into buying a bag of dates. I don't even like dates.
2pm:
For the first time, I really feel like I'm in a Middle Eastern city. Clothes hang from the windowsills, the streets are narrow and dense, and most everyone is dressed in traditional garb. And yet, all the stores are hawking knickknacks, T-shirts and junk electronics. It's the stuff—the stuff that can only be described as
stuff
—you see in Times Square. Who, I wonder, buys it all?
2:30-6pm:
Nap time.
7-8pm:
I head to the Dubai Mall. The place is massive. Dizzying. I walk around in a pleasant daze, trying to take it all in. What strikes me most is how familiar it is, how foreign. It has that classic mall smell—perfume tinged with the suggestion of movie theater popcorn.
8:15pm:
I follow the signs to the aquarium, essentially one huge floor-to-ceiling tank. I notice a few scuba divers among the fish. It's one thing to scuba dive in an aquarium, and another thing completely to scuba dive in an aquarium
in
a mall.
8:30-9pm:
I'm feeling claustrophobic, but I can't for the life of me find an exit. I follow a friendly Dutch girl out to the taxi stand. I chat with her a bit, but the line must be a few hundred people long, so I escape through the parking lot and catch a cab on a main road.
9:30-10:15pm:
The cabdriver has no idea where the restaurant I planned to go to is, so I have him take me to the Dubai Marina District instead. I stumble upon a Lebanese restaurant and enjoy a plate of shawarma on the patio. Then, I ask where the bathroom is. Unbeknownst to me, this restaurant is part of yet another mall. I have a nightmarish vision of Dubai as one giant, labyrinthine network of malls with no way out.
11-11:45pm:
Back at the hotel, I hear music—"Hero" by Enrique Iglesias coming from the Indian Nightclub. The place looks like a strip club, but nobody is stripping. It's dark, and red lounge chairs are scattered around an elevated stage. I sip on a whiskey soda and watch a trio of slightly overweight, dolled-up Indian women dance without any semblance of coordination or rhythm. Every so often, a man in a suit walks out with a silver tiara on a velvet cushion and places it on one of the dancers' heads, takes it off and walks away. I have absolutely no idea what this ritual coronation signifies. It's time for bed.
Jan 4, 7am:
I'm waiting in line to check out, when I notice a
Guinness Book of World Records
certificate hanging behind the desk. Apparently, the Country Club Hotel holds the record for most candles simultaneously lit across multiple venues (5,026). What does this mean? Why is it even a record? For what purpose was it executed in the first place? Who knows.
Classic f**king Dubai.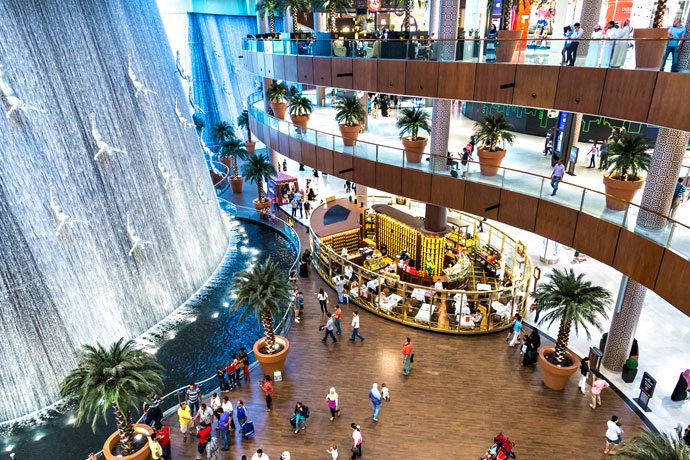 Eric Twardzik
Time to Kill in Dubai: 21 Hours
Jan 3, 5:30am:
After 14 hours, my flight from Sydney lands in Dubai. I depart the plane and hope I never see another toddler in my life.
7:40am:
I'm picked up late by Jackie, a family friend who's been living in Dubai as an expat for the last year and a half. She says traffic was horrendous because, as my luck would have it, I've arrived the one day a year it rains. No one here knows how to drive in the rain.
8am:
We're driving. Dubai's huge. All the buildings look like the buildings from
Aladdin
, in the sense that they're based on classic Islamic architecture but also look like cartoons. And did I just see a Tim Horton's?
9am:
We eat a buffet breakfast at Atlantis, a massive hotel on that fake island shaped like a palm tree. You know the one.
11am:
We visit the Dubai Mall. This is the single largest place I've ever been. My God. There's an ice-skating rink. There's a four-story fountain. There's an aquarium spanning two floors with a goddamn shark in it. Across from this is the largest Cheesecake Factory I've ever seen.
12:30pm:
The call to prayer reverberates through the mall.
1:30pm:
Jackie needs to drive home because the roads are being washed out by rain. Really. I continue to wander the mall.
2:30pm:
I find a grocery store within the mall. It's enormous. Every surface sparkles. My eye catches letters spelling "Pork Shop" above a doorway. Below, a small sign reads: "For non-Muslims." I cross the threshold and discover—you guessed it—the largest selection of pork I've ever seen. Gorgeous salamis and soppressatas under a glass counter. Oscar Mayer wieners and chicharrones. Everything here is designed to be on the largest scale possible—even a selection of animal products the Emirati people can't actually eat. Are they doing this only to impress me? Well, I'm impressed.
3-6pm:
This is like visiting some ancient empire at the height of its power and decadence before everything collapses. Finally, I leave the mall.
6pm:
The fountains in the artificial lake outside the mall begin their show. It's like the Bellagio, but... you know.
8:30pm:
I eat outside at a Lebanese restaurant across from the mall. I order a couple of dips and a lemon-orange-mint shisha that I proceed to smoke for the next 90 minutes. Directly in front of me is the 63-story Address Downtown Dubai Hotel, whose entire exterior was just scorched by a massive fire on New Year's Eve. No one seems to give it much notice.
11pm:
I take an elevator to the top of the Burj Khalifa, the world's tallest building. The elevator ascends 126 floors in 50 seconds. I don't feel it. The views are magnificent.
Jan 4, 12am:
I get a cab back to the airport. I've been awake for more than 24 hours, and struggle mightily to stay conscious.
1am:
The man at passport control doesn't believe my passport's image of me at 16 is actually me. I can see where he's coming from. I'm escorted to a back room where several men look at my passport, gesticulate and repeatedly ask, "This you?" I tell them to look at my nose. Eventually they believe me.
2:30am:
I board my flight in a state of near delirium. I question if everything I saw in the last 24 hours was real, or a hallucination caused by lack of sleep. Then I look at my iPhone.
Yep, real.