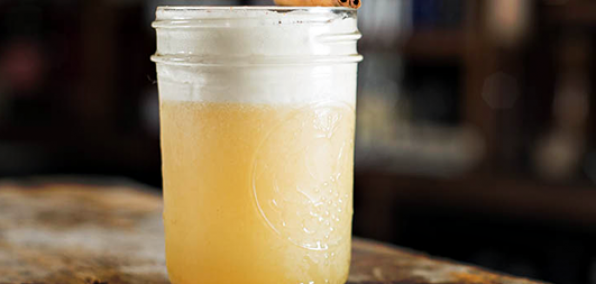 There's something comforting about whiskey.
The warmth, the spice, the whiskey...
And while poured-into-a-glass never fails, we're always looking for new ways to drink it.
So here's a new way to drink it.
The Rye Maple Fizz comes from Eveleigh in Los Angeles, and it's what happens when you combine rye whiskey with maple syrup, lemon, egg white and bitters. A take on
the classic Maple Leaf
, this cocktail is both rich and refreshing, which means it's equally suitable for fireside nightcaps and eye-opening brunches. Should one lead into the other.
Rye Maple Fizz
2 oz rye whiskey
3/4 oz fresh lemon juice
3/4 oz egg white
1/2 oz maple syrup
2 dashes Angostura bitters
Combine ingredients in a shaker and shake without ice to emulsify. Add ice and shake again until chilled. Strain into a jar, top with soda and garnish with grated cinnamon and a cinnamon stick.