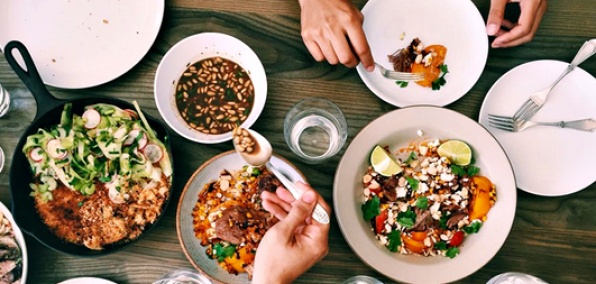 Situation: You want to experience the wonderful things being made by Otium's and Viviane's chefs.

Problem: Neither restaurant has opened yet.

Solution: Din, a new service that's about to bring you everything you need to recreate dishes from big-deal chefs around the city, now delivering in LA.

Yes, it's a delivery service. One that supplies all the ingredients you need to cook a great recipe at home. And it's conspiring with some major-league talent.

So take tonight, for instance. You could make some pork belly that was originally composed by Tim Hollingsworth, the French Laundry vet who's about to open Otium. Or quail with lapsong sausage from Michael Hung, before he opens Viviane.

Visit the site and pick out some dishes. They've got a team led by Quince's former chef de cuisine, and they've been busy doing all the prep work for you. Sous-vide-ing meats, smoking stuff, pickling farmers' market produce. Then they pack it up nicely in the specific amounts you'll need.

Finally, it all gets dropped off at your door along with cold packs and recipes. Each one takes about 20 minutes for you to prepare yourself.

We see a vanity cookbook in your future.
Note:
<a href="https://www.din.co/" target="_blank">Din</a>, now delivering