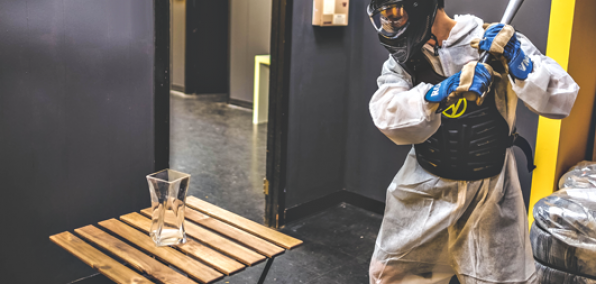 There's a time and a place for peaceful meditation.

Sure.

But they probably don't call it the Rage Room...

These guys do. It's an actual establishment where you'll use a baseball bat to wreak havoc on whatever inanimate object you feel like demolishing. It's open now, and an unexpected yet solid reason to visit Toronto.

If you're not familiar with these particular types of rooms, allow us to lay it out for you.

Step 1: Enter. It's just an average-looking space. Save the black walls and the air of imminent destruction.

Step 2: Take a look at the Smash Menu. Be pleased to find it filled with all the chairs, vases, frames and wineglasses you'd probably want on a Smash Menu. (And if one hypothetically wanted to bring photos along, one could.)

Step 3: Zip yourself into a white jumpsuit, strap on a thick black vest and put on a full face helmet. Feel a strange tingle of excitement.

Step 4: Be offered a baseball bat. Accept it.

Step 5: Unleash your pent-up... everything on the objects around you. Smash things. Scream. Smash more things.

Not today, chair. Not today.