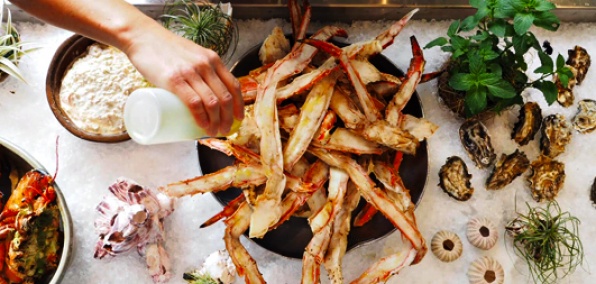 Somehow, someway, you survived.
Eighteen months with no Spice Table.
History will remember your endurance.
As for tonight, you'll be at
Cassia
—the oh-slightly-kinda-anticipated new place from Spice Table's Bryant Ng with the family behind Rustic Canyon and Huckleberry. It's open as of tonight and it will start taking reservations next Tuesday.
You're coming here with a date and... a lot of other people who miss Spice Table. Fortunately, it's a big, high-roofed space with room for lots of people and white marble and a wine room and anticipatory lip-bitings and Vietnamese pot-au-feu.
You might laser-focus on the raw bar for massive crab legs with fish sauce or smoked salmon belly. Or maybe you'll begin at the
bar
bar, for applewood-smoked scotch drinks and banana mules. (Here.
Here are the menus
.)
Wherever you start, you'll eventually move to a banquette for your encounter with Vietnamese meat loaf, fried rice with Chinese bacon, and grilled lobster with pistachio butter. For dessert, it's Vietnamese coffee pudding.
And if you really miss Spice Table, sit back by the wood grill, where you'll recognize the birdcages. They're informally calling this area Baby Spice.
Scary Spice wasn't considered.