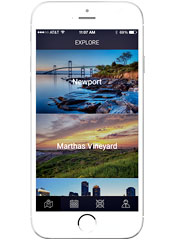 Every person needs a home.
Even boats.
And it doesn't matter that they're not persons.
Because they're boats.
Here to help is
Dockwa
, a new app that allows you to book New England marina space for your boat with a smartphone and probably your fingers, too, available now for iPhone and coming soon to Android.
This is for your trusty vessel, the
SS Macho Man Randy Savage
. Or the fantastically named boat you don't yet own, but will someday get around to owning. Point is: boats. And boats need somewhere to stay.
So you download it. Enter information for yourself, your payment and your boat. Then you choose between seven distinct regions for docking, from Boston Harbor to Newport to Narragansett Bay.
Soon you'll see photos and profiles for different marinas, plus their prices for docking, mooring or day-tripping. And a list of amenities, like whether they provide ice or have a swimming pool. No word on the pool noodle situation.
Then you pick a date, get a confirmation, and you're set. To deep-sea fish. To recover pirate treasure. Or to record your own self-funded jet ski stunt video.
Your boat, your rules.